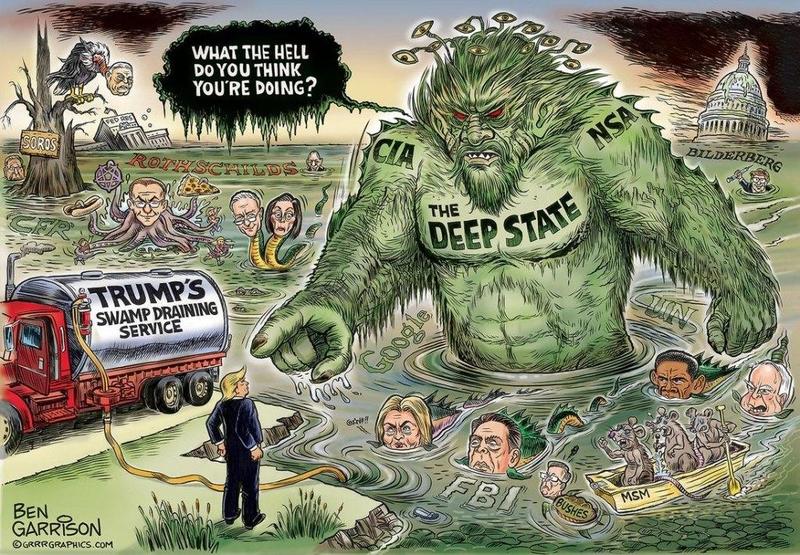 Als je toch fraude pleegt, doe het dan wat minder opzichtig! Dat er in de VS machtige mensen zijn die president Trump weg willen hebben, is een feit van algemene bekendheid. Dat de talrijke Trump rallies steeds duizenden mensen trokken en de schaarse Biden rallies slechts enkele tientallen, was zichtbaar op alle videobeelden. Dat Biden is betrokken bij de politieke omkoperij en corruptie van zijn verslaafde zoon Hunter, staat misschien niet in de krant, maar wel als een paal boven water. En nu is men dus aan het stemmen tellen en Joe Biden "wint", maar de manier waarop is zo opzichtig! Het gaat daarbij voornamelijk om het stemmen per post.

Op internet wemelt het van de video's en artikelen die zeggen dat de democraten de verkiezingen hebben gestolen. We gaan eerst maar weer naar Ella*, die meestal goed geïnformeerd is:
Trump-team gaat naar rechter om verkiezingsfraude aan te tonen
Beide presidentskandidaten claimen in de Amerikaanse verkiezingen de overwinning nog voordat alle stemmen geteld zijn. Het Trump-team stapt naar de rechter in de staten Pennsylvania en Wisconsin, omdat de Democraten de "verkiezingen willen stelen." Mogelijk volgen meer rechtszaken in andere staten en bij de Hoge Raad. Het ziet er niet gunstig uit voor Donald Trump, maar door de corruptie bloot te leggen, zouden zaken wel eens een radicale wending kunnen krijgen.
Tijdens de verkiezingsavond werd het tellen van de op die dag uitgebrachte stemmen stopgezet, omdat de stembusmedewerkers moe zouden zijn. De Republikeinen claimen dat de Democraten de pauze hebben gebruikt, om te inventariseren hoeveel stemmen men moest toevoegen om de achterstand te overbruggen. In Wisconsin, Michigan en Pennsylvania kwamen er plotseling honderdduizenden stembiljetten uit 'een hoge hoed' met 90-100% van de stemmen voor Joe Biden. Dit riekt naar later toegevoegde stembiljetten en verkiezingsfraude. Of het om legitieme stembiljetten of vervalste biljetten gaat, zou nader onderzocht moeten worden.
Deze verkiezingsrace is nog lang niet gelopen. Eigenlijk weet men pas in januari wie de winnaar is. Tot 20 januari blijft president Trump de president, wat de Democraten en de media ook mogen roepen. Op 6 januari wordt door het Congres de winnaar uitgeroepen. Tot die dag is het Trump-team aan de macht.
The Complete Election Cheat Sheet: What Happens On And After November 3
After Election Day on November 3, the results of the election need to generally be finalized by December 8, which is known as the Safe Harbor Day, as this is when states select their EC (Electoral College) Voters.

Those selected EC voters will then officially cast their votes on December 14, to be counted by the next Congress on January 6 who will then declare the winner. Finally, January 20 is Inauguration Day which will begin the next presidential term.
De verkiezingen verliepen chaotisch, vooral in Democratische steden, waar men de mensen die kwamen stemmen de verkeerde pennen gaf en het de controleurs onmogelijk werd gemaakt om het tellen van de stemmen te controleren. Opvallend is dat er op dezelfde dag ook verkiezingen waren voor de Senaat en dat de Republikeinen daar een duidelijke winst behaalden.
Why Does Biden Have So Many More Votes Than Democrat Senators In Swing States?
Fraude is troef en chaos heerst! Hoewel ik geen fan ben van Jensen, komt hij wel met goede informatie. Op een klein puntje vergist hij zich: er waren geen verkiezingen voor de Huis van Afgevaardigden, die komen weer over 2 jaar. Het ging slechts om de president en de Senaat. (Update: hier zit ik fout! Er werd ook gestemd voor het Huis van Afgevaardigden, maar slechts voor een deel van de zetels.) De Senaat is het orgaan dat wetten moet goedkeuren, net als bij ons de 1e Kamer. In de Senaat hebben de Republikeinen nu een comfortabele meerderheid en in het Huis van Afgevaardigden, dat o.a. wetsvoorstellen doet, hebben de Democraten een kleine meerderheid.
CHAOS – DE JENSEN SHOW #249
Ook Russia Today bericht over de chaos. Een Facebook groep van verontwaardigde mensen over de verkiezingsfraude, groeide in enkele dagen tijd met duizenden leden per dag, tot Facebook de hele groep verwijderde! Op Facebook mag men alleen op Joe Biden stemmen…
Trump supporters protest, accuse Democrats of fraud duurt 4 minuten.
As tensions continue over the results of the 2020 presidential election, some Republicans are taking a stand as they accuse Democrats of trying to steal the election. RT America's Rachel Blevins reports from Washington DC, where demonstrations are happening.
En dan zijn er mensen die zeggen dat Trump dit heeft laten gebeuren omdat hij de fraude wil blootleggen. In het volgende artikel staat een video van 11 minuten met Steve Pieczenik bij Infowars. Volgens Pieczenik heeft Trump dit voorzien en er volgt helemaal geen chaos! Trump wist dat er rellen zouden komen en hij heeft de National Guard reeds naar verscheidene steden gestuurd. Dat kwam inderdaad in het nieuws. Niet in het nieuws was dat ieder stembiljet zou zijn voorzien van een watermerk, zodat men geen valse stembiljetten kan meetellen. Ik kan die video niet embedden, dus link even door:
Intelligence Insider: President Trump Setup Democrats In "Sting Operation" To Catch Them Stealing Election!
In staten en steden waar de Democraten heersen, waren de lock downs veel strenger dan in Republikeinse staten. Maar nu de verkiezingen voorbij zijn, is ook het virus opeens niet meer zo gevaarlijk. Dit zegt Tony Heller:
Scamdemic Over duurt anderhalve minuut.
Now that the election is over, experts have suddenly determined that it is safe for people to attend indoor concerts.
Het mooiste commentaar op deze "Democratische" verkiezingen in de Verenigde Staten komt volgens mij van Lee Camp, die de verkiezingen van de VS even vergeleek met die in Zuid Amerika:
~315~ CIA-Backed Coups Collapsing duurt 8 minuten.
Nu ga ik genieten van de buitenlucht op deze zonnige dag! De boeren zijn aan het ploegen en ik wil nog een perkje spitten, dan kan het deze winter lekker bevriezen! Volgend jaar plant ik dan daar mijn andijvie en sla. 🙂