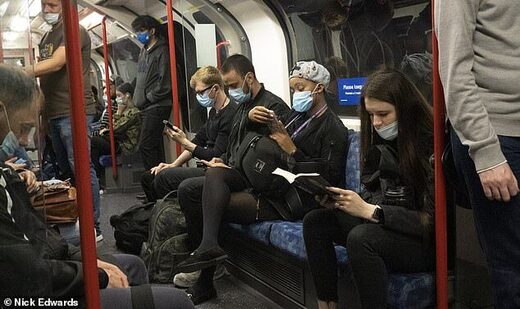 Daar zitten we dan, allemaal in een en de zelfde trein. Dat gaat hard! In een paar maanden tijd zijn we veranderd in contactloze zombies. Soms gaat het ook hard tegen hard, dan is men het zat om zo te worden bedonderd. Eerst 9/11, toen de CO2 HOAX, daarna de Corona HYPE en nu die mondkapjes. Tegen het virus beschermen ze evenmin als kippengaas tegen horzels of wespen. Het dragen ervan is ongezond, omdat je onvoldoende frisse lucht inademt. Ze helpen wel wat tegen roet en fijnstof. In de grote steden van China en Japan draagt men ze daarom soms massaal, maar nu moeten wij ze dragen in de trein. Dan volgen de winkels, de bioscoop, het café of restaurant, de school, de bibliotheek, het museum… terwijl het niet helpt tegen het Corona virus. Het is echt volslagen doorgeslagen waanzin! 🙂 🙂 🙂

Man walks down Oxford Street wearing nothing but a face mask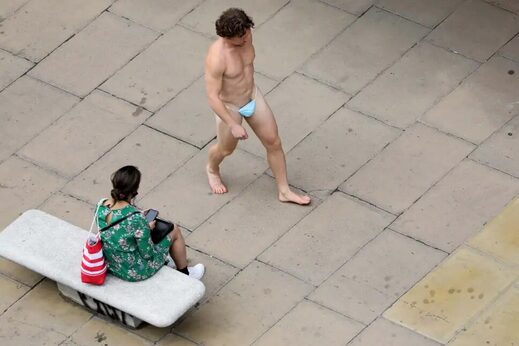 De door mij zeer gewaardeerde geleerde Dennis Rancourt was ooit zo vriendelijk om duidelijk uit te leggen waarom het broeikasgas CO2 slechts een zeer beperkte werking heeft. Dit was reeds gebleken uit het klimaatonderzoek, maar de vraag waarom bleef hangen in het gekissebis, dus onbeantwoord. De global warming van de laatste decennia werd ook niet veroorzaakt door CO2, maar door de zon. Het wordt nu wereldwijd weer wat kouder, want de zon is nu minder actief.
CO2 kan ook volstrekt geen kwaad, planten ademen het in en dieren en mensen ademen het uit. Dat is puur natuurlijk! In het volgende interview legt Dennis Rancourt uit waarom mondkapjes tegen virussen een zinloze oefening zijn:
Dr Mercola Interviews Denis Rancourt: 'There is no Scientific Evidence That Facemasks Inhibit Viral Spread'
Story at-a-glance

Not a single randomized controlled trial with verified outcome has been able to detect a statistically significant advantage of wearing a mask versus not wearing a mask, when it comes to preventing infectious viral illness
If there were any significant advantage to wearing a mask to reduce infection risk to either the wearer or others in the vicinity, then it would have been detected in at least one of these trials, yet there's no sign of such a benefit
There is no evidence that masks are of any utility for preventing infection by either stopping the aerosol particles from coming out, or from going in. You're not helping the people around you by wearing a mask, and you're not helping yourself avoid the disease by wearing a mask
Infectious viral respiratory diseases primarily spread via very fine aerosol particles that are in suspension in the air. Any mask that allows you to breathe therefore allows for transmission of aerosolized viruses
All-cause mortality data are not affected by reporting bias. A detailed study of the current data of all-cause mortality shows the all-cause mortality this past winter was no different, statistically, from previous decades. COVID-19 is not a killer disease, and this pandemic has not brought anything out of the ordinary in terms of death toll

Intro

Denis Rancourt, Ph.D., a former full professor of physics, is a researcher with the Ontario Civil Liberties Association in Canada. He's held that volunteer position since 2014, which has given him the opportunity to dig into scientific issues that impact civil rights. He also did postdoctoral work in chemistry.

Here, we discuss the controversial topic of face masks. Should you wear one? When and where? Does it protect you or not? There's a wide range of opinions on this even within the natural health community.
In dat artikel staan onweerlegbare wetenschappelijke argumenten, vooral interessant voor de fact checkers: mondkapjes houden geen virussen tegen. Dell Bigtree zegt hetzelfde op zijn manier, aan de hand van de volgende vraag: Als iedereen mondkapjes draagt, waarom dalen de besmettingscijfers dan niet?
WHY ARE COVID CASES STILL GOING UP? duurt 3 minuten.
For the past month, the majority of the country has been following mask mandates in public places, and staying under different degrees of lockdown. So why are the cases continuing to go up? Del has a simple answer.
Die mondkapjes berusten op puur bijgeloof! Mondkapjes spelen in op de angst die ons werd aangejaagd door de wereldwijde Corona HYPE van de WHO, gevolgd door het IRVM. Bange mensen zijn gemakkelijk te misleiden. Ze hebben sterk de neiging om een leider te volgen, in plaats van te vertrouwen op hun gezonde verstand en hun eigen weg te gaan. Ze doen wat hen wordt opgedragen zolang ze denken dat er gevaar dreigt en hun gehoorzaamheid hen tegen het gevaar beschermt. Ze onderwerpen zich gemakkelijk aan het gezag, de zogenaamde wetenschap van de autoriteiten. Het mondkapje is een symbool, een teken van deze onderwerping.
Facemasks Turn us Into Voiceless Submissives – And It's Not Science Forcing us to Wear Them, It's POLITICS
In the name of Covid, the State has already thrust itself into every corner of our existence.
It has come between husbands and wives at the ends of their lives. It has forbidden the old to embrace their grandchildren.
It has denied us funerals and weddings, locked the churches, silenced the ancient monastic music of cathedral choirs and prevented the free worship of God for the first time in 800 years, and banned us (unless we are Left-wing) from holding or attending public meetings.
It has ordered us to stay at home, scolded or fined us for sunbathing, going on country rambles or even entering our front gardens.
It has forced millions of us to stop working, sabotaged the educations – at school and university – of untold numbers of young people and has become our boss and paymaster in the biggest state takeover of life and work ever attempted by non-Communists.
Soon we will discover that it has also wrecked an already wobbly economy and separated untold numbers of us from jobs and businesses we thought were safe. Soon, too, it will also separate us from our savings, through punishing tax and savage inflation, to pay for the disaster it has caused.
Now it presumes to tell us what to wear. And what it wants us to wear is a soggy cloth muzzle, a face-nappy that turns its wearer from a normal human into a mumbling, mouthless submissive.
And this, it seems, is popular. Is there nothing the modern British people will not put up with? Britain's muzzle consumption is now so high that six months from now there will be reports of dolphins and whales floundering about in an ocean made sticky by millions of gallons of hand-sanitiser, as they choke on congealed clumps of used muzzles. These items are set to become the new plastic bags.

Why is this frenzy taking place?

Here is a clue. On July 12, Deborah Cohen, the medical correspondent of BBC2's Newsnight, revealed an astonishing thing. The World Health Organisation (WHO) had reversed its advice on face masks, from 'don't wear them' to 'do wear them'.
But the key fact was that it had not done so because of scientific information – the evidence had not backed the wearing of face coverings – but because of political lobbying.
Het mondkapje is een vorm van masochisme, in antwoord op het sadisme van de machthebbers. Sommige mensen zijn maar al te graag bereid om een volslagen overbodig mondkapje te dragen. Dat is immers het nieuwe normaal. Vooral vrouwen lopen graag te showen met hun mondkapje, maar mannen doen het ook.
Nu we met z'n allen opeens een mondmasker moeten gaan dragen zien we dat mondmaskers een heuse modetrend zijn geworden. Zo zijn er namelijk mondmaskers met leuke print, een grappige tekst of mooie versieringen online te koop.

Heel wat modehuizen, zo ook bijvoorbeeld Louis Vuitton, hebben al aangegeven dat ze volop bezig zijn met het ontwerpen van mondmaskers. Hoe denk jij daarover, ben jij ook op zoek naar hippe mondmaskers of maakt het jou niet uit, zolang je maar wat beschermd bent?
Rond die mondkapjes is nu een kleine controverse ontstaan tussen de journalist Ben Swann en de fact checkers van Facebook en YouTube. Die mondkapjes blijken muilkorven waarmee men ons de mond wil snoeren. Wie er wat van zegt, krijgt te maken met de fact checkers censuur! Het begon met dit artikel:
New CDC and WHO Study Proves 'No Evidence' Facemasks Prevent Virus
Ben Swann, Truth in Media, Sat, 25 Jul 2020
Facebook's so-called "fact checkers" have struck again, claiming that my report on the science that proves that wearing facemasks, especially in non-medical settings does almost nothing to prevent the spread of a virus, is false… citing that it was based on old information.

Now, I'm reporting on a new study created in conjunction with the World Health Organization and published by the CDC from less than 60 days ago that once again proves that there is no evidence that wearing face masks in public prevents the spread of flu-like viruses. I'm also going to show you why the Facebook fact-checking system cannot be trusted.

Link to the CDC published study. This study was conducted in preparation for the development of guidelines by the World Health Organization on the use of nonpharmaceutical interventions for pandemic influenza in nonmedical settings. This study was supported by the World Health Organization.
Dat had ik geplaatst op Facebook, maar de fact checkers kwamen voorbij Men wees mij daarbij op  dit artikel:
Fact Check: New CDC And WHO Study Does NOT Prove 'No Evidence' Face Masks Prevent Virus
Does a new CDC and WHO study prove there is no evidence that face masks prevent the spread of the novel coronavirus? No, that's not true. The study is not "new" as claimed in a Russian-sponsored YouTube video and it does not conclude that face coverings don't help in reducing the transmission of the virus that leads to COVID-19. The research cited was published by Chinese scientists — not the CDC or WHO — in February 2020, a month before WHO declared the COVID-19 pandemic, not in May 2020 as claimed by video host Ben Swann.
Normaal gesproken is er in de wetenschap een stelling of hypothese, die kan worden gesteund of weerlegd door bewijzen, maar …prove there is no evidence…, hoe doe je dat? Wat een spraakverwarring! En …a Russian-sponsored YouTube video… da's wel erg verdacht! 😉 In elk geval voelde Ben Swann zich in de kuif gepikt, wat dan ook weer terecht is, want er is inderdaad geen enkel bewijs dat die mondkapjes ons beschermen tegen een virus!
Reality Check | New CDC and WHO Study Proves 'No Evidence' Face Masks Prevent Virus duurt 12 minuten.
De Corona maatregelen zijn ook wel erg verwarrend, maar ze helpen helaas niet tegen de Covid-19 griep. Wie dat op social media hardop zegt, wordt echter door de factcheckers van het podium geschopt. Mondkapjes moeten en er tegenin gaan mag niet. Het is complete waanzin, getuige een oude man in zijn stoel. Met een stiff upperlip vertelt hij in wat voor onzinnige kermis van maatregelen we terecht zijn gekomen. 😉
The Satanic Wars Have Started duurt ruim 14 minuten.
•26 jul. 2020
International best-selling author, Dr Vernon Coleman MB ChB DSc FRSA, describes the world "They" have created, and analyses the laws which have been invented. He explains why and how we are being terrorised by our governments.
BBC Fact Checking Investigated duurt 13 minuten.
27 jul. 2020
International best-selling author, Dr Vernon Coleman MB ChB DSc FRSA, shows how and why he believes BBC fact checkers are wrong about mask wearing, and provides evidence proving that masks can be dangerous. He also explains how and when British citizens do not have to pay the BBC licence fee.
Die mondkapjes zijn eigenlijk bedoeld om ons te verlokken tot een nog niet bestaand vaccin dat nog zal komen en dan wereldwijd zal worden verstrekt aan de hele bevolking van meer dan 7 miljard mensen. Dat project wordt verzorgd door Billy Gates, een betrouwbare sokpop van het grote kapitaal. Hij werd op bijna magische wijze stinkend rijk, maar het is al net zo'n poppenkast als indertijd met Hitler. Volgens Billy halen we volgend jaar gewoon allemaal even een prik en dan wordt alles weer normaal. Gelooft u het? 🙂 🙂 🙁
Planetary Savior duurt ruim 3 minuten.

45 Reacties op "Mondkapjes, masochisten en muilkorven"