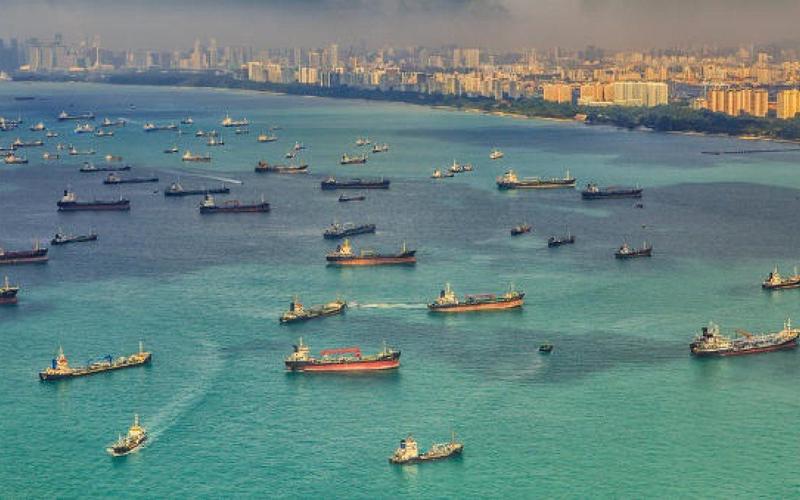 Heeft u toevallig nog een lege olietanker? Dan kunt u hem nu gratis vullen en u krijgt nog geld toe! Op 10 maart j.l. werd bekend dat er naast de corona-plandemie ook een olie-oorlog was uitgebroken: Het Coronavirus en de val van de olieprijs. Het is wel rustig dat er nu geen vliegtuigen overkomen en nog maar weinig auto's rijden, want de lucht is hemelsblauw! Maar de economie is vrijwel tot staan gebracht en op zee liggen volle olietankers te wachten op klanten. Inmiddels is de olieprijs dan ook dwars door de bodem gezakt. Gisteren, op 20 maart, was de prijs van crude $-38,-. U leest het goed: MIN 38 dollar per vat! Is dit het einde van de olie-dollar?

Heb eerst even wat reportages van Atlantis Report:
10 maart 2020
👉Falling Oil Prices will Cause Bank Failures and The Collapse of The Petrodollar
8 april 2020
👉Oil Price War Explained : It is a Russian War against The Petrodollar.
21 april 2020
👉Negative Oil Prices:The Death of The Petro Dollar and the Birth of A NWO Digital Currency
En dan de headlines van Zero Hedge:
16 april 2020
Wholesale Gasoline Hits 12 Cents A Gallon In Midwest
According to Bloomberg, gasoline in Fargo, North Dakota has hit 12 cents a gallon at 'the rack' – the wholesale market where gas station owners buy fuel before marking it up at the pumps – which have become "little more than makeshift storage for ballooning inventories."
"When you see gasoline down around 12 cents a gallon, no one is going to be making money," said Ron Ness, President of the North Dakota Petroleum Council, who added that it's nearly impossible for retailers to turn a profit at that price.
17 april 2020
Crude Crashes As Mega-Techs Soar Amid Record Surge In Deaths, Unemployment
Oil Stored At Sea Hits A Record 160 Million Barrels, Doubling In Two Weeks
The ability to buy a barrel of oil cheap today and lock in a profit by selling it in the future, encourages traders to park barrels in storage in the hopes of selling them for a profit later.
And with the contango barely budging, analysts – who notes that there are over 770 VLCCs in the world – estimate that as many as 100 to 200 supertankers could be deployed for floating storage in coming months.
Is The Russia-Saudi Oil-Price War A Fraud And A Farce?
What Putin and Saudi Crown Prince Mohammed bin Salman want is for US producers to share the pain of oil production cuts in order to stabilize prices. It's an entirely reasonable request.
What does Putin want from this deal?
Price stability. Yes, he'd like to see prices settle somewhere north of $45 per barrel but that's not going to happen for a while. The combination of a weaker demand (due to the coronavirus) and oversupply (from the Saudis flooding the market) have ensured that prices will remain low for the foreseeable future. Even so, Putin understood what the Saudis were doing by flooding the market, and he knew it wasn't directed at Russia. The Saudis were trying to persuade US oil producers to stop freeloading and cut production like everyone else.
20 april 2020:
Futures Plunge As WTI Crashes By Most On Record, Tumbling To $11 Per Barrel
Oil prices crashed the most on record with the May WTI futures contract hitting its lowest level since 1999, plunging as low as $11 or down 38%, as nobody wants to take actual physical storage amid widespread fears crude storage will soon be full; meanwhile companies prepare to report the worst quarterly earnings since the financial crisis, while tens of thousands of people continue to get sick every day with the coronavirus.
The Last Time This Happened To Oil, Stocks Collapsed 30%
Here's The Next Problem: Where Do 100 Million Oil Barrels Get Delivered… And What Happens Next Month?
The entire financial world is watching in stunned amazement as the May WTI contract crashed as low as -$40, an unprecedented – until today – event, and one which is sparking frenzied speculation who will be oil's "Amaranth", the nat-gas trader which remains the best example of how futures-spread positions can go wrong.
But sooner or later, investors will ask themselves the next question: where will roughly 100 million barrels of oil be delivered. That is roughly the equivalent of the outstanding May WTI open interest of some 109 thousand contracts.
The Market Is Breaking… Everywhere
History In The Making: Oil Settles At Negative $37.63 Per Barrel
Saudi Arabia and Russia are whispering about further production cuts, but we have a hard time getting too enthusiastic about the oil price anyways. There is a real risk that the oil storage capacity is filling up, even with the agreed lower pace of production; maybe already within the next six weeks. Therefore, more production cuts could be needed just to prevent the oil price from crashing further. Better data on new corona cases are probably keeping the oil price "alive" for now, but the physical market tend to matter the most in the end.
Oil Producers Will Pay You $54/Barrel To Take South Texas Sour Off Their Hands
Besides that simple supply/demand imbalance, we explained here in great detail exactly what drove today's move:
…all the storage in Cushing is booked, and there is no price they can pay to store it, or they are totally inexperienced in this game and are caught holding a contract they did not understand the full physical aspect of as the time clock expires.
Or, put another way, today's negative prices are the reflection of dire market conditions for producers, and as the following price sheet from Plains Marketing LP notes, producers are paying up massively for you to take crude off their hands…
As Elisabeth Murphy, an analyst at consultant ESAI Energy previously noted, "these are landlocked crude with just no buyers. In areas where storage is filling up quickly, prices could go negative. Shut-ins are likely to happen by then."
And it's not about to get better anytime soon as oil demand has been so battered by global government lockdowns to stop the spread of the coronavirus (that are being reinstated amid secondary waves of infection or delayed for fear of such) that any conceivable oil production cut is a drop in the ocean.
Yes, the crude futures curve offers hope but that contango is supported by the ETF as much as anything else and given spot deliverable prices above, rolling down that curve of pain, just as May contract longs did today, to converge with spot will come very soon for June… and as Kyle Bass explained this afternoon, there is little expectation that the Saudis and Russians will take their foot off the throat of US shale anytime soon…
Here Is The Full Explanation Behind Today's Unprecedented Negative Oil Price
How did you end up with negative oil prices today? This happens when a physical futures contract find no buyers close to or at expiry.
Let me explain what that means:
A physical contract such as the NYMEX WTI has a delivery point at Cushing, OK, & date, in this occurrence May. So people who hold the contract at the end of the trading window have to take physical delivery of the oil they bought on the futures market. This is very rare.
It means that in the last few days of the futures trading cycle, (which is tomorrow for this one) speculative or paper futures positions start rolling over to the next contract. This is normally a pretty undramatic affair.
What is happening today is trades or speculators who had bought the contract are finding themselves unable to resell it, and have no storage booked to get delivered the crude in Cushing, OK, where the delivery is specified in the contract.
This means that all the storage in Cushing is booked, and there is no price they can pay to store it, or they are totally inexperienced in this game and are caught holding a contract they did not understand the full physical aspect of as the time clock expires.
Op de beurzen wordt ook gegokt op de aardolieprijs, dus ook dat is een casino. Er staan futures uit die in mei moeten worden ingelost, maar er zijn geen kopers en er is ook geen plaats om de olie op te slaan. Ach, had ik maar een tanker van een paar duizend barrel, dan had ik hem gisteren laten vullen en nog duizenden dollars toe gekregen. Nee, de meeste mensen hebben geen tanker in hun tuin, ook ik niet. Maar terwijl iedereen het heeft over de corona-griep, denk ik dat het virus slechts het mondkapje is, waarachter een totale mondiale financiële crisis schuil gaat.
Revolutionary Times & Regime Collapse – "The System Cannot Handle It"
Since 2007, President Putin has been pointing to one overarching threat to global trade: And that problem was simply, the U.S. dollar.

And now, that dollar is in crisis. We are referring, here, not so much to America's domestic financial crisis (although the monetisation of U.S. debt is connected to threat to the global system), but rather, how the international trading system is poised to blow apart, with grave consequences for everyone.

In other words, Covid-19 may be the trigger, but it is the U.S. dollar – as President Putin has long warned – that is the root problem:
…
"More than 90 countries have inquired about bailouts from the IMF—nearly half the world's nations—while at least 60 have sought to avail themselves of World Bank programs. The two institutions together [only] have resources of up to $1.2 trillion".
President Putin saw this eventuality long ago, and predicted the dollar's ultimate collapse, as a result of the world's trade becoming too large and too diverse to be sustained on the slender back of the U.S. Fed. And because the world is no longer ready for the U.S. to be able to sanction it, willy-nilly, and at will.
Ach, we zitten thuis en we wachten maar af…
Mad World Remix of Moby Video (Are You Lost In The World Like Me)