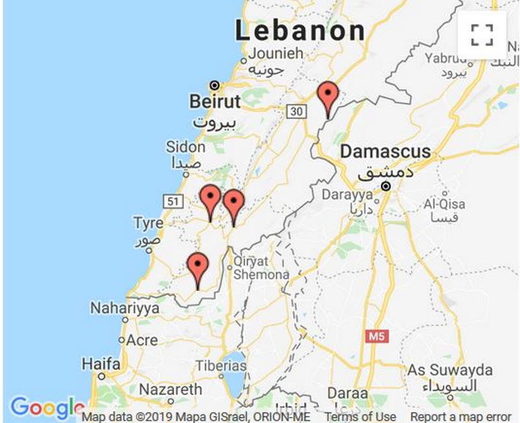 Het is weer eens zover! Israël schiet op de buurlanden: Libanon, Syrië en Irak. Want daar wonen Shi'iten, dat zijn handlangers van Iran en ze doen hele enge dingen. Israël moet zich daar tegen verdedigen, vóór die engerds de kans krijgen… Het bewijs werd geleverd door het IDF, het Israëlische leger dat de beschietingen uitvoerde. Lieve hemel, volgende maand zijn er verkiezingen en Bibi met zijn dombom bom wil graag nogmaals worden herkozen. Bij deze het bewijs dat het puur zelfbehoud was van de illegale atoommacht Israël:

Israeli defense forces released a video of Iranians prepping 'killer drone' duurt 20 seconden en is niet zwart wit, maar grijs!
Bibi met zijn bom bij de Verenigde Naties was 7 jaar geleden al erg dom, maar toen dreigde hij alleen met een bom op een stuk karton. Nu schiet hij openlijk op drie buurlanden! Volgens de nieuwste berichten heeft Israël echter niet geschoten op Palestina, er zouden in Gaza wat bomaanslagen van ISIS zijn geweest. Maar drie landen, dat is wel: drie = teveel!!!
FULL SHOW: Israel attacks 4 countries in 48 hours
RT America
Gepubliceerd op 27 aug. 2019
In less than 48 hours, Israel reportedly has launched military airstrikes on Syria, Palestine, Lebanon and Iraq, escalating tensions across the region. Former Pentagon official Michael Maloof weighs in (16:31).
Israel has Attacked Lebanon and Syria – So What?
26.08.2019 Author: Andre Vltchek
On August 25th, 2019, Israel attacked Lebanon. It has done it again.

Just as it attacked Syria, the same night.

RT reported the same day:

"Israeli drone flights were "an open attack on Lebanese sovereignty" and an assault on UN Resolution 1701, which ended the 2006 Israel-Lebanon war, Hariri said on Sunday, just hours after reports of two Israeli UAV incidents in Beirut.

Hariri called the drone incursion a "threat to regional stability and an attempt to increase tensions."

He said there's a heavy presence of planes in the airspace over Beirut and its suburbs, adding he will consult with Lebanese President Michel Aoun on what could be done to repel the "new aggression.""

So, what? Really, we have been 'here' before, on so many occasions.

PM Hariri is fuming, but he is one of the closest allies of the U.S. and Saudi Arabia in the region. In fact, he is a Saudi citizen. Is he going to do anything, like getting into a war with Israel? Never.

Can he actually do anything? No; nothing, even if he would want to. The truth is that practically, he can do absolutely nothing. Not he, nor Lebanon's President Aoun, or even the Lebanese armed forces. Lebanon has no means with which to repel any Israeli attack. Absolutely no means! The country's air force is pathetic, consisting of several flying toys, like modified Cessnas, old helicopters, and several A-29 Super Tucanos. That could hardly frighten some of the mightiest and well-trained squadrons in the world – those of the Jewish state.

The bitter and uncomfortable truth is, also, that Israel can basically do anything it desires, at least in this part of the world.
Israeli attacks provoke Iran, Hezbollah – and could help jihadists duurt 17 minuten.
The Grayzone
Gepubliceerd op 27 aug. 2019
* Pushback with Aaron Maté *
With its bombings of Iraq, Syria, and Lebanon, is Israel trying to stop an attack from Iran and its allies, as it claims, or is it trying to provoke one? Rania Khalek analyzes Israel's escalating violence and how it could potentially help jihadist groups in the region.
Guest: Rania Khalek, independent journalist, video host for In The Now, and co-host of the podcast Unauthorized Disclosure.
Saber-rattling: Israeli Air Force simulates strikes on Southern Lebanon with illegal low-altitude flights
Sputnik
Fri, 30 Aug 2019 18:21 UTC
Tensions between Israel and Lebanon escalated this week following an alleged Israeli attack on Hezbollah's media HQ in Beirut early Sunday morning. At a press event Thursday, the Israeli military accused Iran's Revolutionary Guards of being directly involved in Hezbollah's alleged efforts to build precision-guided missile factories.
Israeli Air Force fighters illegally crossed into Lebanese airspace on Friday and conducted low altitude reconnaissance flights in the country's south, Lebanon's National News Agency has reported, citing a correspondent.
According to the outlet, flights were carried out in areas on the Israeli-Lebanese border in the Dyre district, and 'mock raids' were carried out in the airspace over Naqoura, a small city containing the headquarters of the United Nations Interim Force in Lebanon (UNIFIL).
Iran warns Israel attacks 'will be their last'
RT America
Gepubliceerd op 30 aug. 2019
Israel is accusing Iran of stepping up efforts to provide the Hezbollah militia with precision guided missile production facilities. RT America's Sayeh Tavangar gives us the details.
Israel increases attacks on Iran allies amid deepening ties to UAE, Saudi duurt 8 minuten.
The Grayzone
Gepubliceerd op 30 aug. 2019
*Pushback with Aaron Maté*
The recent Israeli bombings of Iranian-allied groups in Iraq, Lebanon, and Syria come amid deepening ties between Israel and the Gulf monarchies. Israel and the United Arab Emirates have held secret meetings in recent months to share information and coordinate efforts against Iran.
Guest: As'ad AbuKhalil, professor of political science at California State University Stanislaus.
Tot slot Abby Martin als tegenwicht voor de agressie. Abby Martin's new film: 'Gaza Fights for Freedom'
Miko Peled
MintPress News
Tue, 27 Aug 2019 00:00 UTC
In her new documentary film, Gaza Fights for Freedom, journalist Abby Martin places the Gaza Strip under a microscope for the viewers to see. The result is an excellent movie that is difficult to watch, and disturbing at times, precisely because it presents a true, realistic view of life in Gaza. The movie shows how a small, courageous nation — locked up in the world's largest concentration camp, facing inexcusable, unjustifiable and unforgivable violence — refuses to give up on its hopes and dreams and continues to fight for life.

Nothing left but bones

Heroism and cliches aside, the conditions in the Gaza Strip are horrifying. As one father interviewed in the movie says: "We are alive only by name… Gaza is no longer Gaza; all that is left of it are bones." He may be referring to the distant past when the city of Gaza was one of the most important, prosperous and prestigious cities not only in Palestine but in the entire Middle East.

Perhaps what is most refreshing about Martin's work is that the voices one hears are clear, authentic, Gazan voices. She makes no attempt to create the artificial "balance" one too often has to endure in movies and reports about Palestine in general and Gaza in particular. As though the Israelis who kill and maim and keep 2.2 million civilians caged and under siege in the Gaza Strip have a right to be heard. As though an explanation or justification can be given to the sheer cruelty and brutality exercised by Israel.
Bij deze een trailer: