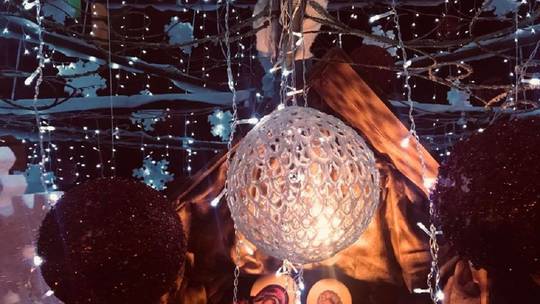 In Syrië vierden de mensen uitbundig kerstmis en wensen ze elkaar allemaal een gelukkig nieuwjaar. Vanessa Beeley deed verslag van de optimistische sfeer in dit door oorlog verwoeste land. Christmas colors light up a diverse Syria as peace & stability return – and the West barely noticed. Het "vrije westen" heeft het nu te druk met het bestrijden van "Global Warming", om aandacht te besteden aan het einde van een oorlog en eindelijk vrede in Syrië. Als we werkelijk zo bang zijn voor de uitstoot van CO2 en de verdere verwoesting van het milieu, waarom stoppen we dan niet met die smerige oorlogen? Men kan het geld beter besteden aan het bestrijden van armoede, dakloosheid en flex-arbeid, aan onderwijs, ziekenzorg, bejaardenzorg en ga zo maar door. Maar dat is niet wat de regering doet. Deze gokt op "duurzaam", verhoogt de lage BTW en de belasting op energie voor particulieren. Dat is allemaal voor een goed milieu, maar veel mensen uit een minder goed milieu zien het komende jaar zorgelijk tegemoet.

Meer salaris, duurdere boodschappen: dit verandert er in 2019 in uw portemonnee
Het kabinet presenteert voor 2019 mooie koopkrachtcijfers, maar zadelt de burger ook op met een btw-verhoging en stijgende energiekosten.
Ruim een jaar geleden deed premier Rutte een belofte aan de bevolking. Bij de presentatie van het regeerakkoord zei hij dat het goed gaat met Nederland, maar dat 'te veel mensen dat nog niet voelen in hun persoonlijk leven'. "Dat moet beter. Dit kabinet gaat er voor zorgen dat de gewone, normale Nederlander er echt op vooruit gaat." Wie dat precies is, die 'gewone, normale Nederlander', liet de premier overigens in het midden.

Over die belofte: met enige trots presenteerde het kabinet vlak voor het kerstreces de nieuwe koopkrachtcijfers. En het moet gezegd, vrijwel alle Nederlanders krijgen het komende jaar meer te besteden. Een belangrijke oorzaak is het verlagen van de inkomstenbelasting. Het credo van dit derde kabinet-Rutte luidt niet voor niets: werken moet lonen. Arbeid wordt minder belast. Ook voor gezinnen zijn er prettige extraatjes, zoals een hogere kinderbijslag en meer kinderopvangtoeslag.

De koopkracht stijgt volgens dit kabinet met gemiddeld 1,6 procent; uiteindelijk moet 96 procent van alle huishoudens er in 2019 op vooruit gaan.

Er is ook minder goed nieuws, dat logischerwijs ook minder hard van de daken wordt geschreeuwd. Een hogere zorgpremie, een verhoging van het lage btw-tarief (van 6 naar 9 procent) en een (forse) stijging van de energierekening. Het kabinet hoopt dat de burgers vooral het zoet zullen onthouden, niet het zuur.
Het zoet is voor de mensen die werken en het zuur is voor de pensionado's, de WAO-ers, de werklozen en bijstandsgerechtigden. De AOW gaat niet omhoog en mijn pensioenfonds stuurde me een brief: Het spijt ons, maar we kunnen uw pensioen niet indexeren, want dat mag niet van de regering. Dat is zuur voor heel veel bejaarden. Het bitter zal wel weer gaan naar de armen, de mensen in de schuld-"hulpverlening", etend van de voedselbanken, en naar de daklozen.
Consumenten

– Het lage btw-tarief gaat omhoog, van 6 naar 9 procent. Dat betekent in de eerste plaats dat boodschappen duurder worden. Volgens het kabinet is het gevolg dat een volle kar boodschappen van 100 euro voortaan 102,83 kost. Dat lijkt te overzien. Maar de btw-verhoging geldt ook voor bloemen, boeken, een bezoek aan de kapper, museum of pretpark en het laten verbouwen van je huis.

– De energierekening stijgt aanzienlijk. Energiebedrijven verhogen hun tarieven voor gas en elektriciteit, het kabinet verhoogt de belasting op aardgas en verlaagt de belastingkorting op de energienota (met 51 euro). Bovendien stijgt de toeslag die iedereen betaalt voor duurzame energieprojecten. Het kabinet zegt dat huishoudens met een gemiddeld energieverbruik 130 euro meer kwijt zijn. Dat kan dus ook (veel) meer zijn.
De klimaatgekte komt ons nog duur te staan! Maar er zijn meer trends in de wereld. Volgens Gerald Celente zal het komende jaar een trend laten zien van het legaliseren van marihuana en hennepteelt, zowel in de VS als in andere landen. Hij waarschuwt ook voor een opstand van "gele hesjes", maar niet in de VS. Ook staat er een economische crisis op het programma… Kortom: het roer moet om! In de volgende video is Celente goed op dreef, maar beeld en geluid lopen niet synchroon. Zet het beeldscherm uit en luister. 😉
GERALD CELENTE: WORLDWIDE RIOTS, RECESSIONS – 2019 IS NUTS; You've Been Warned! duurt 42 minuten.
Portfolio Wealth Global
Gepubliceerd op 26 dec. 2018
Ook Cross Talk van Peter Lavelle gaat over de trends voor het komende jaar. Het gaat dan vooral over de politieke verhoudingen in de wereld. Het gaat over Brexit, de gele hesjes, de Europese Unie, de relatie met Rusland en zo voort. Na de pauze gaat het over het feit dat de US zijn troepen zal terugtrekken uit Syrië, waardoor er een gat valt in de machtsverhoudingen aldaar.
CrossTalk Bullhorns: Looking at '19 duurt 24 minuten.
Gepubliceerd op 31 dec. 2018
Welcome to the crystal ball edition of CrossTalk. What can we expect in this New Year? We have a great lineup of guests telling us what they think. CrossTalking with Mark Sleboda, Dmitry Babich, John Laughland, Xavier Moreau, and Alex Christoforou.
Kortom: de wereldpolitiek is nog steeds een zooitje, maar in Rusland gaat het goed. President Poetin heeft een nieuwjaarswens van drie minuten uitgesproken, gevolgd door prachtige beelden uit Moskou. Alleen de muziek beviel me niet, dus die heb ik uitgezet. De toespraak was echter hartverwarmend: samenwerking voor de welvaart en het welzijn van alle mensen.
In Moskou wordt het midwinterfeest gevierd met licht, heel veel licht. Rusland heeft genoeg energie om al die lichten te laten branden. Rusland heeft zelfs voldoende gas om ons allemaal te bevrijden van de warmtepomp-gekte, de windmolens en de zonnepanelen. Liever Russisch gas in mijn keuken dan een warmtepomp in mijn huis en tuin!
RAW: Moscow Streets Shine Before New Year
Tot slot wens ik u allen ondanks alles veel geluk in het nieuwe jaar!
See Russian ice swimmers welcoming 2019 by braving Lake Baikal