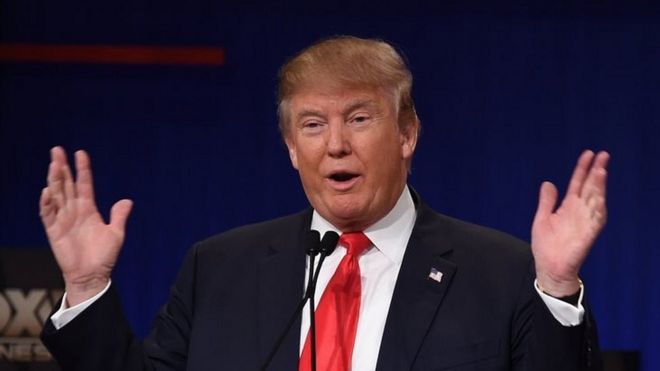 Hi ha, het is zo ver: Donald Trump heeft nu "zelf toegegeven" dat Rusland de e-mails van Clinton en Podesta heeft gehakt. Ieder zinnig mens kan nagaan dat dit een leugen is, oftewel nepnieuws: The Russians Did Not "Hack" the US Election – a Few Facts from a Former CIA Spy, maar Trump speelt het spelletje mee, want hij moet wel. Nog 10 dagen voor zijn inauguratie en nu reeds is de sfeer te snijden. Oorlogsvoorbereidingen: De NATO-troepen rukken in Europa op naar de grens van Rusland en in de Stille Oceaan wordt China omcirkeld met vliegdekschepen. Rusland en China willen geen oorlog en Trump wil dat kennelijk evenmin.

Wie nog gelooft dat Rusland de e-mails heeft gehakt, leeft in een luchtbel! Deze kan elk moment worden doorgeprikt. De luchtbel bestaat uit het geld dat de banken creëren door leningen te verstrekken en uit beursgenoteerde derivaten die in feite niet meer zijn dan een gok op een toekomstige prijsstijging. Dit spannende spel wordt gespeeld met geleend geld! Gaat de rente omhoog, dan barst de luchtbel. Dat is casino-kapitalisme en Trump wéét dit!
President Trump Warns: 2017 Will See The Biggest Stock Market Crash The World Has EVER SEEN duurt 26 minuten.
Gepubliceerd op 30 sep. 2016
Republican Presidential candidate Donald Trump Believes the stock market bubble will burst BEFORE the Election! Something Very Scary Might Be About To Happen!
De Fed heeft de rente in oktober niet verhoogd en de luchtbel is daardoor nog niet geklapt. Hij wordt nog altijd opgeblazen, met leugens en nepnieuws, met wapens, oorlog en de winst van de wapenverkoop, maar de economie staat op barsten en de bevolking is het monetaire beleid spuugzat! Het is echter nog maar de vraag of de economische hervormingen die Trump wil doorvoeren, in de VS zullen leiden tot een betere economie. Wat Trump voorstaat, heeft namelijk zijn keerzijde. Iedere munt die hij opgooit, is kop of kont. De dreigende crash van 2016 is namelijk niet afgewend, maar dreigt nog steeds. Ook onder Trump zal de komende crisis worden afgewenteld op de bevolking. Professor Richard Wolff is er daarom beslist niet gerust op.
How Trump Could Bring on the Crash of 2016 duurt ruim 27 minuten.
Gepubliceerd op 28 dec. 2016
On tonight's Big Picture, Thom discusses Trump's economic and trade policies with economist and professor Dr. Richard Wolff. If Trump cuts taxes and ramps up defense spending, the U.S. could be looking at a shift back to Reagan-era economics.
Trump is nog bezig om zijn medewerkers te kiezen en deze moeten nog worden goedgekeurd door het Congres en de Senaat. Zijn keuze valt daarbij op mensen die ten eerste net als hij stinkend rijk zijn en ten tweede net als hij wat buiten de politieke establishment vallen. Zijn economische plannen sluiten daarop aan. Privatisering, publieke werken in samenwerking met de private sector, maar de winst moet dan komen uit de zakken van de bevolking. De econoom en historicus Michael Hudson voorspelt dat dit beleid zal leiden tot nog meer armoede onder de bevolking.
President Donald Trump Will Make The Poor Poorer and The Rich Richer duurt 18 minuten.
Donald Trump heeft van meet af aan veel weerstand opgeroepen. Tijdens zijn verkiezingscampagne ontstonden er regelmatig rellen tussen aanhangers en tegenstanders van Trump. We weten natuurlijk niet in hoeverre deze gevechten werden georganiseerd door de Clinton-kliek, maar de tegenstand is wel echt. Het lijkt dan niet moeilijk om een valse vlag-aanslag te organiseren, met als eenzame patsy een Mexicaan of Moslim, of desnoods een van de vele activisten die de VS rijk is.
Why Donald Trump May Be Assassinated duurt 11 minuten.
Gepubliceerd op 17 jun. 2016
For the record.. I don't like Donald Trump all that much but in my opinion, anyone's better than Hillary Clinton.
I know that isn't all that popular of an opinion as he's definitely the most hated presidential candidate America's ever seen, and for that reason and many others, I believe he is in grave danger of being assassinated.
Ook dr. Paul Craig Roberts waarschuwt voor een aanslag op Trump. Zoals we weten kreeg zijn website de kwalificatie Fakenews, wat een reden is om hem zeer serieus te nemen. In de volgende video maakt hij een strandwandeling met Max Keiser. De ergste weerstand tegen Trump komt niet van de bevolking, maar van de machtige mensen die rijk zijn geworden van de wapenhandel, de spionage en de leugens in de media. En wat denk je van de CIA? Die jongens hebben routine…
Trump will be assassinated! – Dr. Paul Craig Roberts on Trump, Putin & Hacking duurt 26 minuten.
Gepubliceerd op 8 jan. 2017
Dr. Paul Craig Roberts states clearly and repeatedly that if they can't stop him becoming president they'll kill Trump just as they did with John Kennedy, Abraham Lincoln, James A. Garfield and William McKinley. Former Assistant Treasury Secretary under Ronald Reagan, Paul Craig Roberts, explains the attempted Electoral College coup on Trump, and the differences between the last Cold War and the new one.
Toegift: John Kirby de stotteraar:
Revealing evidence of Russia's hacking would be 'irresponsible' – US State Department