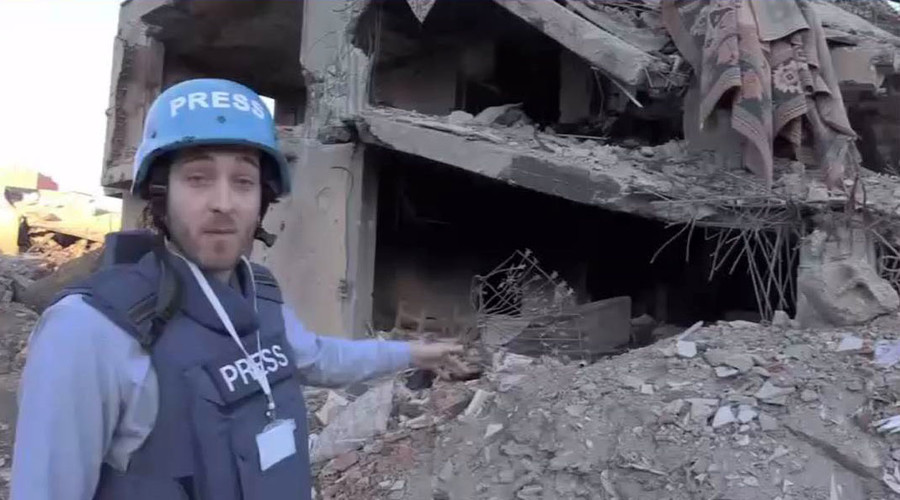 In het Turkse deel van Koerdistan heeft de molenaar Erdogan deze winter nogal huis gehouden. In steden als Diyarbakir en Cizre werd een uitgaansverbod ingesteld en de stad werd van de buitenwereld afgesloten. Vervolgens heeft het Turkse leger en een bloedbad aangericht, door welbewust op woonwijken te schieten. In de westerse media heerste over deze massamoord door een bevriend staatshoofd een doodse stilte, maar Russia Today wist er een journalist met cameraman heen te sturen: William Whiteman.

'Burned to death, beheaded': Cizre Kurds accuse Erdogan's forces of civilian massacre (RT EXCLUSIVE)
Published time: 11 Mar, 2016 05:03
Ook Al Jazeera berichtte er daarna over: Cizre in ruins as Turkey lifts curfew on Kurdish towns
Kurdish civilians returned to widespread destruction after months of fighting between Turkish forces and the PKK.
Het was natuurlijk niet de bedoeling dat deze alles verwoestende slachtpartij in de openbaarheid zou komen, maar een Turkse mensenrechtenorganisatie waarschuwde de UN: 'Mass killings' of Kurds in Cizre reported to UN
Published time: 28 Apr, 2016 13:28
Een dergelijke aanpak leidt natuurlijk niet tot vrede, maar dat is ook niet de bedoeling. Erdogan wil Koerdistan zonder Koerden. Heel veel Koerden zijn al gevlucht, alleen al in Duitsland wonen er anderhalf miljoen! Alle rijkdom van deze streek is dan voor Erdogan en zijn criminele NATO-vrienden. Ook Nederland is bevriend met het Turkije van Erdogan en men mag een bevriend staatshoofd niet beledigen. Daarom noem ik Erdogan een molenaar, maar in de internationale politiek krijgt Poetin de schuld: Russia denies support to PKK, calls on Turkey to solve 'Kurdistan Issue'
KOBANE – Turkey has found no better justification for punitive operations against Kurds than accusing Russia of arming the Kurdistan Workers' Party (PKK), Russian Foreign Ministry Spokeswoman Maria Zakharova said on Saturday.

Turkish President Tayyip Erdogan has accused Russia of providing anti-aircraft weaponry and rockets to the PKK last week.
Het uitgaansverbod werd eind april opgeheven, waarna een stroom vluchtelingen de getroffen steden verliet. Deze mensen kan men over niet al te lange tijd verwachten langs de gesloten grenzen van Tsjechië, Oostenrijk en de Balkanlanden! Maar er bleven ook mensen achter, mensen die bereid zijn om te strijden voor hun stad en hun land. Dus wat dacht je wat?
Turkey declares curfew in Diyarbakir
Gepubliceerd op 5 jun. 2016
Turkish authorities have declared a round-the-clock curfew in rural areas near the city of Diyarbakir.
The measure is taken ahead of a planned military operation targeting Kurdish militants in the region. Earlier, the army announced an end to another operation against the PKK in Nusaybin near the Syrian border and in Shirnak near the border with Iraq. Turkish security sources say more than 1,000 people, mostly PKK militants, have been killed in three months of clashes in those areas. The fighting resumed in Turkey's largely Kurdish southeast last July after the collapse of a two-year-old ceasefire. PKK militants have been fighting for an independent Kurdish region in the country's southeast since the 1980s. The conflict has killed over 40,000 people on both sides.
Het gaat alleen over PKK-militanten en dat is een verboden terroristische organisatie, maar in werkelijkheid is iedere Koerd een doelwit van Erdoganistan, in Turkije, Syrië en Irak. De volgende documentaire zegt genoeg. Er is geen vrijheid van meningsuiting, geen vrije pers, journalisten worden vervolgd! En bedenk: dit is geen oorlogsgebied, maar een bevriende natie!
Erdoganistan. RT Doc investigates allegations that Turkey oppresses Kurds and collaborates with ISIS duurt 27 minuten.
Gepubliceerd op 2 jun. 2016
Turkey has a long history of conflict with the Kurdish people whose historic homeland is spread over what is now Turkey, Syria and Iran. For many years, Kurds from the country's South-East have campaigned for autonomy within the Turkish state. The Kurdistan Workers Party (PKK) has been fighting for independence and because it's considered a terrorist group, is outlawed in Turkey. Until recently, a ceasefire had been in effect between the government and the PKK; that has now ended. Since then the conflict has escalated and hundreds have been killed. The local Kurdish population claims that Erdogan's government is conducting an operation against their people. Civilians continue to die and the Turkish police enjoy unchecked authority. They insist that the widespread murder of Kurds is systematically covered up at state level. Erdogan's government is also accused of collaborating with ISIS.
The Kurds in neighbouring Syria have also formed their own resistance, the Kurdish People's Protection Units who are fighting against ISIS. Several accusations are levelled at the Turkish Government, supported by testimonies from Syrian Kurds, captured ISIS militants and Turkish journalists. They allege that Erdogan's government buys illegal oil from ISIS, allows the militants safe passage across Turkish borders and even provides them with ammunition. Kurds also claim that with its "one nation, one country" policy, Erdogan's government hopes to use ISIS as a tool to rid itself of the longstanding Kurdish thorn in its side.
Local journalists who have reported on government hostilities towards the Kurds are routinely persecuted and at least one major independent Turkish newspaper has been taken over by the government. Reporters who cover 'pro-Kurdish' stories are frequently accused of association with the PKK and by extension, terrorism; many have been arrested and even killed. RT Doc hears first-hand accounts from some of the few remaining independent journalists about their investigations and why they persevere despite the danger.
5 Reacties op "Erdoganistan: de moord op de Koerden"