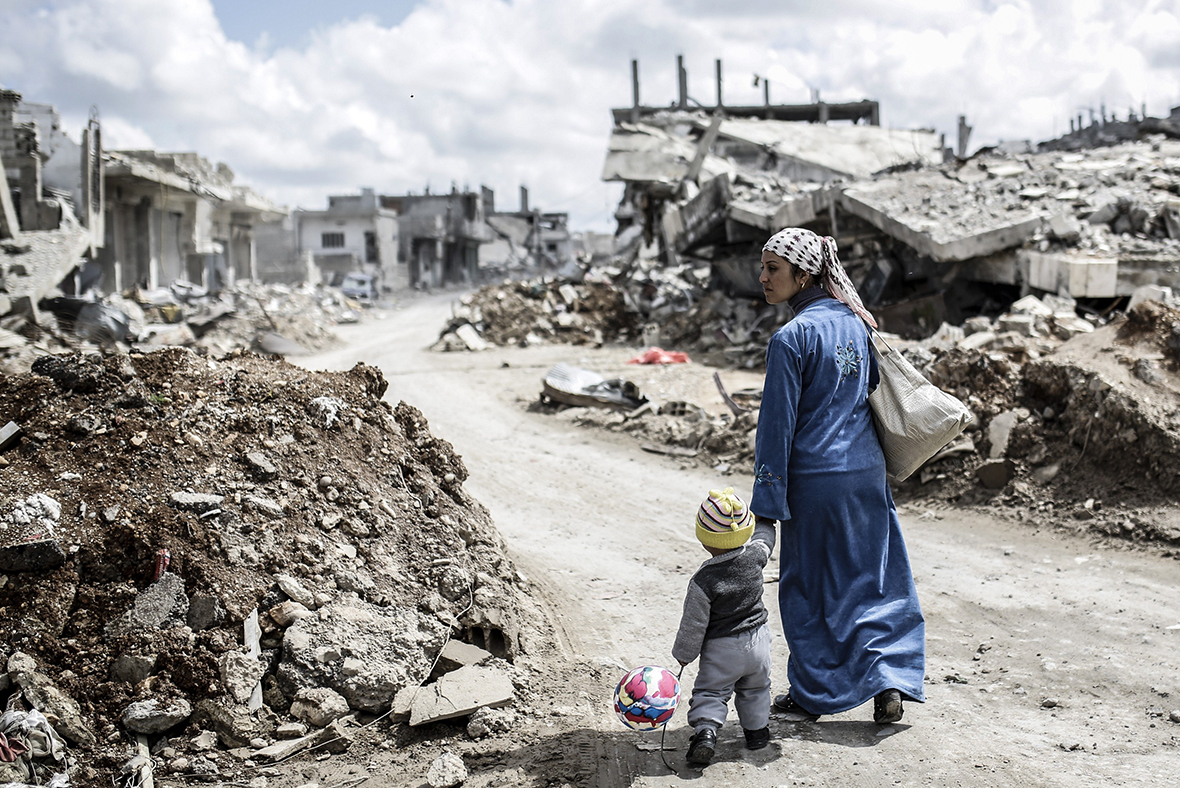 Vandaag even over Syrië. Het reguliere Syrische leger SAA probeert met steun van de Russische luchtmacht zowel Aleppo als Raqqa te heroveren op de terroristen. Palmyra is in mei door het SAA heroverd op ISIS en dat is groots gevierd met een Russisch klassiek concert. Raqqa is nog in handen van ISIS en volgens de VS zijn dat terroristen, dus steunt de VS de Koerden van Rojava in een aanval op Raqqa vanuit het noorden, terwijl het SAA oprukt vanuit het westen. Raqqa is het centrum van de Syrische olie industrie en de streek is dun bevolkt, maar zeer vruchtbaar. Aleppo is bezet door allerlei groepen rebellen, waaronder Al Nusra, en volgens de VS zijn dat geen terroristen, maar vrijheidsstrijders. De VS heeft Rusland gevraagd om niet op hen te schieten, maar Lavrov weigert dat.

International Military Review – Syria, June 6, 2016
US failed to part rebels from Al-Nusra, asks not to bomb them – Lavrov
Gepubliceerd op 6 jun. 2016
On Sunday night, Al Nusra front militants launched a new wave of attacks on the Syrian city of Aleppo, which has already been devastated by conflict. Dozens of civilians are feared dead, as residential areas continue to be targeted from terrorist positions
The road to Raqqa, capital of the phony ISIS/ISIL/Daesh "Caliphate", will continue to be a riddle wrapped inside an enigma at least until the US Presidential elections. Let's examine why.
by Pepe Escobar for Sputnik news
The loose combo known as Syrian Democratic Forces (SDF), led by the Kurdish YPG alongside its women's brigade, the YPJ, are trying to advance against Daesh north and now also west of Raqqa.The key target is Tabqa, west of Raqqa. Tabqa is crucial because it links Raqqa with Daesh positions near Aleppo — where an embryonic Mother of All Battles is gearing up. Conquering Taqba itself will be no mean feat as it implies the SDF forces crossing the Euphrates River, which happens to be a red line imposed by Turkey's Sultan Erdogan.

Embedded with the SDF advance is a massive P.R. operation deployed by Washington, involving a hilarious controversy on American boots on the ground. President Obama has always repeated non-stop there would not be US boots on the ground in Syria. The State Department parroted the White House line. But boots — as many as 250 — are indeed on the ground, even as they may disguise themselves with YPG insignia.The Pentagon maintains they are only acting in an "advise-and-assist" role — as in trademark Obama "leading from behind" format. The boots are in fact Special Forces specialized in UW (unconventional warfare). Yet the theater of war — as established by Daesh — is quite conventional. Daesh is constituted as a small army, with heavy armor and considerable artillery, against which UW is meaningless.

The lame duck Obama administration — whose Syria "policy" hardly deviates from the "Assad must go" mantra — is trying to convey the impression for US public opinion that it is actively fighting Daesh. Yet this is a fiction. With no considerable "coalition" air power (apart from some bombing of Daesh targets south of Ain Issa) and no sizeable troops, no "leading from behind" will yield a US victory in Raqqa.
En dan Syrian Girl, meestal zeer goed geïnformeerd en ruim denkend, nu met duidelijke argumenten tegen Rojava! Op dit moment wordt de beweging voor Koerdische autonomie in Syrië gesteund door de VS, terwijl Erdogan in Turkije de Koerden vermaalt tot as of balkenbrij. De Koerdische strijders van PYD/YPG rukken nu op naar Raqqa, gesteund door de speciale troepen van de VS. Volgens Syrian Girl leidt dat niet tot vrede, maar is het een manier om Syrië op te splitsen. Eerst haar artikel, mijn uittreksel geeft een idee, maar het hele artikel is beslist een MUST READ!
Why A Kurdish Enclave in Syria Is a Very Bad Idea
A few simple reasons why PYD/YPG claims to federal autonomy and attempts to annex Syrian land are illegitimate, undemocratic, and could lead to genocide.
1. Kurds are not a majority in the Area PYD/YPG are attempting to annex

2. It is Undemocratic to Impose Federalism on the Majority of Syrians

PYD did not bother to consult with other factions of Syrian society before its unilateral declaration of Federalism. The other ethnicities that reside in Al Hasake governate, which PYD claims is now an autonomous Kurdish state, have clearly rejected federalism. An assembly of Syrian clans and Arab tribes in Al Hasaka and the Assyrian Democratic Organization (ADO) rejected PYD's federalism declaration. In Geneva, both the Syrian government and the opposition rejected PYD's federalism declaration. Furthermore, PYD does not represent all of Syria's Kurdish population. The Kurdish faction of Syrian national coalition condemned PYD's federalism declaration. Most of Syria's Kurds do not live in Al Hasakah and many that do work outside it. Thousands of Kurds have joined ISIS and are fighting for an Islamic State not a Kurdish one.

3. Federalism May Risk Ethnic cleansing of Assyrian Christian and other minorities

Since the Kurdish population is not a majority in the areas PYD are trying to annex, the past few years have revealed that PYD/YPG are not beyond carrying out ethnic cleansing of non-Kurdish minorities in an attempt to achieve a demographic shift. The main threat to Kurdish ethnocentric territorial claims over the area are the other large minorities, the Arabs and the Assyrian Christians.

4. The Resources in Al Hasake are shared between all Syrians

While Kurds make up only 7-10% of Syria's total population, PYD demands 20% of Syria's land. What's more, the region of Al hasakah, which YPG wants to annex has a population of only 1.5 million people. Much of Syria's agriculture and oil wealth is located in Al Hasakah and is shared by Syria's 23 million people. Al Hasakah province produces 34% of Syria's wheat and much of Syria's oil. The oil pumping stations are now being used by ISIS and YPG's Kurds to fund their war efforts while depriving the Syrian people.

While headlines abound about Syria's starving population, there is little talk of how federalising Syria could entrench this starvation into law for generations to come. Instead, promoters of Federalism talk about how giving the resources shared by 23 million people to 1.5 million people will lead to peace.

5. A Kurdish Region in Syria will be a Threat to Global Security

Finally, a designated 'Kurdish area' in Syria is deeply rooted in ethnocentric chauvinism. A US state strictly designated for Hispanic, White or Black ethnicity would be outrageous to suggest and would be considered racist. But the use of ethnicity as a means to divide and conquer is the oldest and most cynical form of imperialism. Syria must remain for all Syrians, not just for one minority.
The Race to #Raqqa – Why Syria Must crush ISIS before Kurdish YPG & US Forces do duurt nog geen 10 minuten.
Tot slot de berichten van Press-TV uit Iran, waar men de andere kant van het conflict beter kan zien dan wij. Per slot ligt Iran aan de andere kant van deze langdurige brandhaard. In Iran zelf heerst al jaren vrede, al wordt het land bij vlagen bedreigd door de VS. De oorlog met buurland Irak behoort tot het verleden en de economische sancties worden op dit moment versoepeld. Maar ISIS is een grensoverschrijdend gevaar, dus ook voor Iran!
The Debate – Syria Situation duurt 23 minuten.
Gepubliceerd op 6 jun. 2016
UK Special Forces have taken a frontline role in Syria. They are operating alongside the so-called rebels to destroy ISIL.
In this edition of the debate, we'll ask what this revelation means, such as whether the Al-Nusra front mixture with the so-called rebels means that the UK troops are fighting alongside the terrorists. We'll also look at why the US is opposed to Russia targeting the al Nusra front in Syria.
Guests:
– Journalist and Political Commentator, Hafsa Kara-Mustapha (from LONDON)
– Former US Intelligence Officer, Bob Ayers (from SOMERSET)
Van de oudere berichten geef ik alleen even de titel met de datum, de tekst en de link.
The Debate – Syria peace talks, 25 jan. 2016
Gepubliceerd op 25 jan. 2016
The date has finally been set, even though there is still no consensus on the list of attendees representing the opposition. The UN Special Envoy to Syria announced Friday January 29 as the date for the Geneva Intra Syria talks. The main sticking point: Making the list of terrorist organizations operating in Syria, namely the ones that are backed and supported by Qatar, Saudi Arabia, and Turkey. This also includes the Kurds, which Turkey does not want to attend. In this edition of the debate, we'll be asking the ultimate question: Will the Geneva Intra Syria talks mark the beginning of the end?
Guest:
– Managing Editor and Columnist, Veterans Today, Jim W. Dean (Atlanta)
– Political Commentator, Baraa Abdulla Sharaf Shiban (London)
The Debate – Talks on Syria (Feb 12th)
Gepubliceerd op 12 feb. 2016
Skepticism seems to be the key word to use after the announcement of a cessation of hostilities in Syria agreed upon in Munich. While meant to get aid to long-suffering Syrians, it does not stretch to areas under terrorists' control. Who is a terrorist in Syria has been a debate which has raged without any resolution in sight. This as President Assad says priority is to cut off militant supply lines, especially those from Turkey, & to liberate the entire country from militant control. Throw into the mix the possibility of Turkish, Emirati, & Saudi incursions, & the Syria crisis gets even messier.
The Debate – Turkey Syria Aggression (Feb 15th)
Gepubliceerd op 15 feb. 2016
Despite international outcries, Turkey has shelled Kurdish regions in northern Syria for the third day, saying it will not allow Kurds to take control of the Syrian border town of A'zaz. Turkish Prime Minister Ahmet Davutoglu has leveled new accusations against Russia's military campaign in Syria, warning Moscow of its consequences. The US and France have warned Turkey of shelling the YPG Kurdish positions. In this edition of the debate, we'll discuss how the retaking the whole of Aleppo from the terrorists spells failure of Turkey and Saudi Arabia in Syria.
Guest:
– ANSWER Coalition, SAN FRANCISCO (Richard Becker)
– Political Analyst, Jihad Mouracadeh (BEIRUT)
The Debate – Seeking no-fly zone in Syria (Feb 17th)
Gepubliceerd op 17 feb. 2016
Turkey has again stated it's desire for a no-fly zone in Northern Syria, this while it is shelling YPG Kurds in that area. The German Chancellor Angela Merkel is renewing her proposal for a no-fly zone in Syria also. And again: the same doubts surface: Is Turkey's demand for a no-fly zone to prevent Daesh terrorists from going into Syria, or actually facilitate them with weapons and support? That is one the questions we'll ask in this edition of the debate.
Guests:
– Programs Dir., Shafaqna Inst. of ME Studies, Catherine Shakdam (LONDON)
– Founder, American Institute for Foreign Policy, Michael Lane (WASHINGTON)
The Debate – Splitting Syria (Feb 24th)
Gepubliceerd op 24 feb. 2016
This is what the US Secretary of State has said: Russia's role is vital to the Syrian ceasefire deal, but the US has 'Plan B'. What is the US Plan B? Kerry, who spoke at a Senate Foreign Relations Committee hearing, did not specify exactly what it is, but the old plan of portioning, which was initiated during the Bush Jr. era, and relayed by then US Secretary of State, Condloleeza Rice, has been discussed, namely partitioning. In this edition of the debate, we'll discuss why the US insists on something that has not worked, something which is without the consent of the Syrian people.
The Debate: Ceasefire in Syria (March 21st)
Gepubliceerd op 21 mrt. 2016
A ceasefire took effect on February 26 in Syrian. 97 anti-Damascus groups, along with the Syrian government agreed to the ceasefire. Since then, the cease fire has been violated dozens of times and now Russia is demanding an emergency meeting with the United States to agree to a monitoring mechanism for the ceasefire. Washington has rejected calls for an emergency meeting. The question is why doesn't Washington want to have that meeting when, on the face of it, the US wants the ceasefire to hold and wants terrorists to be defeated in Syria.