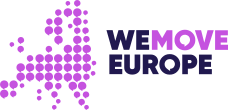 Ingekomen per e-mail:
The EU – it's in your hands
Dear Boudine,
Decisions that affect the issues we care about, whether tax justice, transparency or human rights, are often made by European Union institutions.
If we don't engage with these institutions, national or local solutions may well be short-lived. The WeMove.EU community – 280,000 of us across Europe – believes that we can and must make change happen at the European level.
That's why we thought you'd like this: a new tool that gives you the power to jump-start the change Europe needs. A tool that will help you launch your own campaigns, and link up with other Europeans who feel the same. We've built a brand new petition platform: You Move Europe. We're bringing Europeans together to build a movement – a movement powered by people, for a better Europe. Have a look for yourself:
Learn more about our new platform

Whether you are worried about dangerous substances in your food, or you think waste can be put to better use than sending it to landfill; whether you believe austerity does more harm than good or multinational companies should be more transparent about their taxes – You Move Europe is the action platform that can help you do something about it.
It will make your campaign truly international. You Move Europe will connect you with people who might not speak your language, but who share your values and goals. And we can help you out with the whole process – we understand how to navigate the EU and how to bring people together for a common cause.
So far it's going well. It's already been used for a petition to ask for peace in Turkey by War Resisters' International, a petition to get blind people better access to publications, and a petition on transparency in the EU by DiEM25 and Yanis Varoufakis.
So why not give it a try? Set up your own campaign on the issues that you care about and make a difference in Europe.
With excitement for our future,
Rebecca (London), Virginia (Madrid), and all of the WeMove.EU team
——————————————-
Dank je wel, Rebekka en Virginia, en het hele WeMove.EU team!
Die petitie voor vrede in Koerdistan heb ik meteen getekend! En transparantie lijkt me ook een goed idee!
Met vriendelijke groet,
Boudine