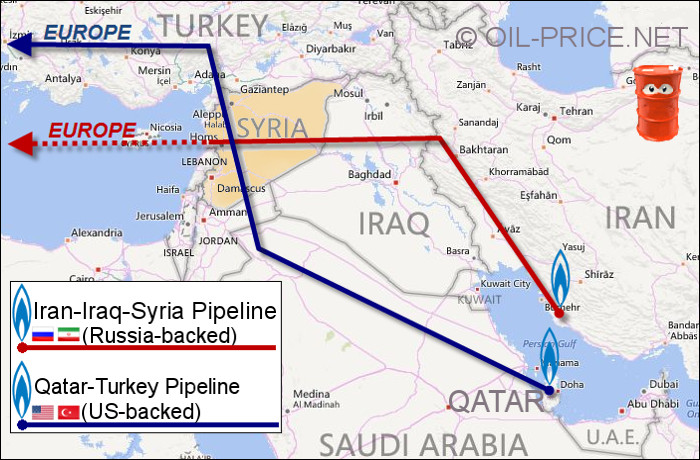 De manier waarop de NATO-landen ISIS in Syrië bestrijden, slaat nergens op! De VS "bombardeert" ISIS al sinds september vorig jaar, maar de bommen vielen voornamelijk in de woestijn en op de Syrische infrastructuur. Intussen groeide ISIS als kool! Het mantra "Assad moet weg" dreunt nog altijd door. Het gaat echter niet om Syrië, maar om Iran, Rusland en China. Het gaat evenmin om ISIS, maar om aardgas, olie en dollars. Het is ook geen burgeroorlog, maar het gaat om pijpleidingen naar Europa, dat op dit moment aardgas uit Rusland krijgt.

Als Rusland niet militair had ingegrepen, dan had het Syrische leger de strijd tegen de NATO-ISIS terroristen verloren. De volgende stap zou dan zijn, om de "rebellen" naar Rusland te sturen, via Turkije en/of Georgië. Dat Rusland heeft ingegrepen in Syrië, is dus uit eigenbelang! De NATO reageerde eerst niet, men was een beetje verbijsterd. Vervolgens schoot de NATO een Russische straaljager neer. Wie nog denkt dat dit min of meer een foutje was van de Turken, moet dit maar eens lezen: Mountain Ambush Het was een goed geplande hinderlaag!
Vervolgens werd een Syrische legerbasis beschoten door de NATO: US Attacks Syrian Military, World Awaits Russian Response. De NATO ontkende en riep: Dat was ik niet, dat heeft Rusland gedaan! Maar niemand gelooft dat. NATO's Absurd Denials Amid Acts of War in Syria. Zowel de Russische regering als de Syrische regering reageerden rustig. De NATO wil ze graag zo kwaad maken, dat er een wereldoorlog uitbreekt. De volgende stap was gericht tegen Syrische burgers: US air strike kills 36 Syrian civilians, including 20 children.
Intussen viel het Turkse leger Irak binnen. De smoes was uiteraard "ISIS bestrijden", maar de regering van Irak eiste dat ze binnen 48 uur zouden verdwijnen, hetgeen Turkije weigerde! De reden is dat de Turken de olie willen stelen. Ook willen ze graag een pijplijn van Qatar naar Turkije. Is Erdogan's Mosul Escapade Blackmail For Another Qatar-Turkey Pipeline? De inval van het Turkse leger in Irak is illegaal en Rusland zegt daar terecht iets van, want ook deze illegale invasie gaat ten koste van de Russische belangen.
Russia calls Turkish army deployment in Iraq "illegal"
What Are the USA and Its NATO Allies Fighting for in Syria and Iraq? Aardolie, aardgas, pijplijnen en vooral dollars! Zolang alle grondstoffen in dollars worden betaald, moet ieder land dollars in voorraad houden. De koers van de dollar is afhankelijk van de olie/dollar koppeling, maar Rusland en China willen zich los maken van de dollar.
Russia's Dollar Exit Takes Major New Step
For some time both China and the Russian Federation have understood, as do other nations, that the role of the US dollar as the world's major reserve currency is their economic Achilles Heel. So long as Washington and Wall Street control the dollar, and so long as the bulk of world trade requires dollars for settlement, central banks like those of Russia and China are forced to stockpile dollars in the form of "safe" US Treasury debt, as currency reserves to protect their economies from the kind of currency war Russia experienced in late 2014 when the aptly-named US Treasury Office of Terrorism and Financial Intelligence and Wall Street dumped rubles amid a US-Saudi deal to collapse world oil prices. Now Russia and China are quietly heading for the dollar exit door.
De-Dollarization Marches On: Russia Is Now Issuing Yuan-Denominated Bonds
RUSLAND: WAAROM 2016 CRUCIAAL IS VOOR DE WERELDVREDE
De verdragen met betrekking tot het "privatiseren" van de Russische Staatsbank zijn in 1917 met een looptijd van 99 jaar afgesloten en eindigen dus van rechtswege in januari 2016. Reeds 5 jaar geleden heeft Putin duidelijk gemaakt dat deze verdragen niet zullen worden verlengd. Vanaf dat moment draaiden de Westerse media als een blad aan een boom en is Putin gedwarsboomd en al ras met Hitler gelijk gesteld. Het vuurtje in Syrië werd aangestoken en toen dat niet afdoende bleek, werd in 2013/14 de coup in Oekraïne gepleegd, werd de Krim door Rusland terug genomen, met een bloedige grensoorlog tot gevolg. Rusland kan maar nauwelijks de handen in de zakken houden.
Het heeft er alle schijn van dat de VS en de dollar deze strijd om de olie in het Midden Oosten verliezen. Het Pentagon pleit dan ook voor een escalatie van de oorlog: US defense secretary outlines general military escalation in Middle East. Nog meer oorlog maakt geen einde aan de oorlog! Think Before You Rush to War. Op dit moment is Syrië het slagveld en alle NATO-bombardementen zijn er illegaal! Six Hard-Hitting Facts About the Syrian Conflict to Shut Up Western Apologists. Syrië heeft dan ook het volste recht om terug te schieten!
Syria Right to Hit NATO Warplanes.
Syria is ready to deploy the fearsome S-300 air-defence system supplied by its Russian ally. The anti-aircraft surface-to-air missiles will give Syria control over its territory and the capability to shoot down any intrusive warplane or missile. NATO warplanes beware!
Het gaat dus om olie en dollars. Dat Syrië moet worden bevrijd, eerst van de "dictator" Assad, vervolgens van de door de CIA getrainde ISIS en binnen kort dus van de Russen, dat zijn allemaal goedkope smoezen! Syria: Ultimate Pipelineistan War. Syrië en Irak moeten worden "gebalkaniseerd", opgedeeld in een aantal elkaar bestrijdende en machteloze staatjes. Daarna wacht Iran hetzelfde lot, terwijl Rusland wordt geïnfiltreerd door ISIS-terroristen. Met de Islam heeft dat allemaal niets van doen! America's Creeping War in Syria gaat over het verdelen van het Midden Oosten en het stelen van de aardolie-rijkdom. Destroying Syria to Create Sunnistan.
Natuurlijk gaat deze misdadige politiek ten koste van de burgerbevolking. Wie niet op de vlucht slaat, sterft in de strijd. Wie niet sterft in de strijd, sterft van de honger. Wie niet sterft van de honger, sterft in de epidemie.
Outbreak of flesh-eating skin disease spreading across Syria (GRAPHIC)