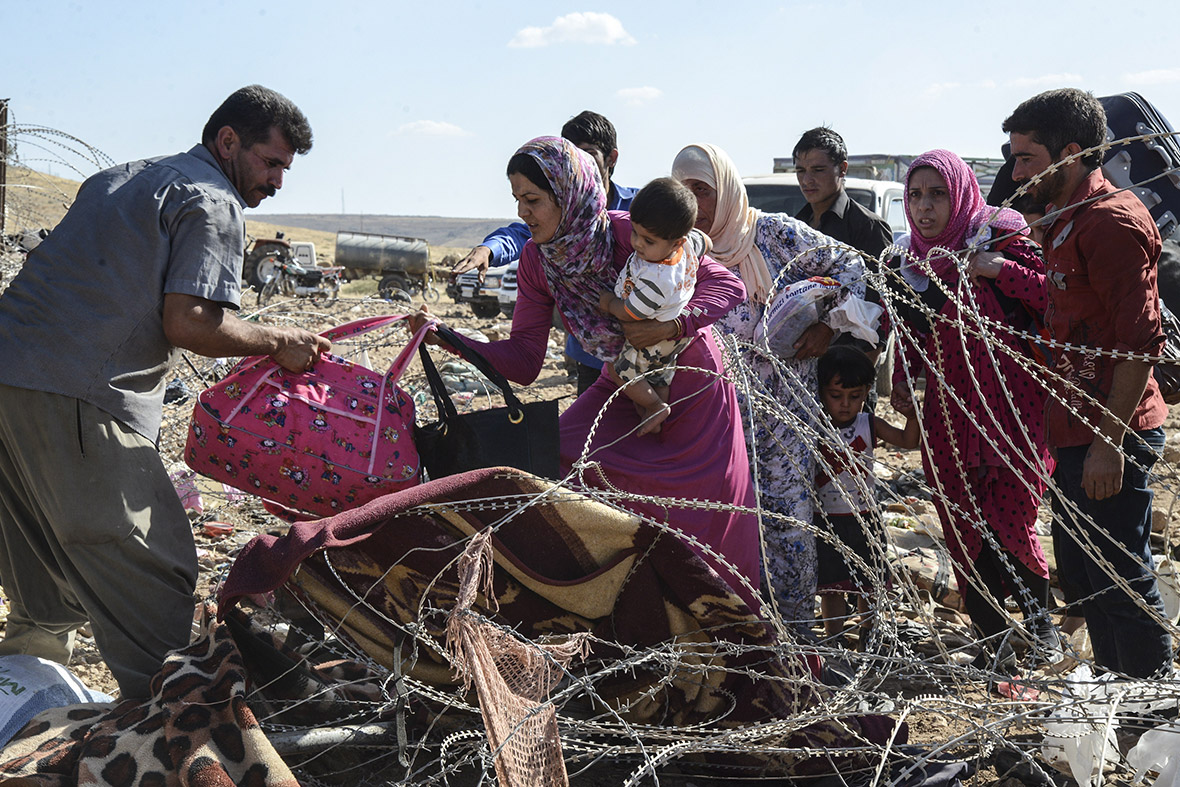 Het vorige artikel op BOUblog ging over vluchtelingen die proberen om Europa binnen te komen. Volgens sommige mensen zijn dit "gelukzoekers", maar de meesten vluchten voor de oorlog die woedt in hun land van herkomst. Een ernstig oorlogsgebied is Syrië, reeds 2 miljoen mensen zijn daar gevlucht, de meesten naar Turkije. Bekijk de fotoreportage uit september 2014: Fleeing Isis: Tens of Thousands of Syrian Kurds Cross Border into Turkey, dan is duidelijk dat deze mensen niet op zoek zijn naar geluk, maar slechts het vege lijf proberen te redden. Uiteraard hopen ze daarna ergens een nieuw bestaan op te bouwen, maar ze zijn nergens welkom!

Koerden die naar Turkije vluchten, merken al snel dat de Turkse politiek niet vriendelijk is voor Koerden. Die politiek is op dit moment ook heel dubbel, de situatie is ingewikkeld en Turkije doet alsof het ISIS bestrijdt. Maar president Assad is het eigenlijke doelwit, zoals blijkt uit interviews van de CNN met de huidige eerste minister van Turkije Ahmet Davutoglu, een trouwe vriend van president Erdogan en voorstander van het herstel van het Ottomaanse Rijk. Dan blijkt dat hij niet alleen ISIS wil bestrijden, maar vooral president Assad. Ook is de Koerdische Arbeiderspartij PKK volgens hem een terroristische organisatie die op een hoop wordt gegooid met ISIS. Let ook op de "barrel bombs" en de gifgasaanvallen van Assad tegen burgers, een valse vlag die al lang is ontmaskerd!
Exclusive: Turkish P.M. on fight against ISIS duurt 9 minuten.
Gepubliceerd op 27 jul. 2015
Turkish Prime Minister Ahmet Davutoglu speaks with Christiane Amanpour about the fight against ISIS, and what he calls the need to support the moderate opposition.
ISIS is bepaald niet ontstaan uit het niets. Deze extreme jihadi's vonden een voedingsbodem in het door de VS verwoeste Irak, waarna ze werden gesteund en gefinancierd door Saoedi-Arabië, de Verenigde Arabische Emiraten en uiteraard door de CIA, met medewerking van Turkije. Hun wapens komen ergens vandaan en hun olie wordt ergens verkocht! De volgende reportage van Russis Today werpt daar een helder licht op.
Origins of ISIS – Special Coverage duurt 27 minuten.
Gepubliceerd op 5 mrt. 2015
In a special report, RT America examines the origins, power and expansion of the terrorist group known as the Islamic State (IS, formerly known as ISIS). RT's Ben Swann delves into the roots of the organization while Ameera David explains how the group amasses the millions of dollars it requires to operate. Finally, Manuel Rapalo explores how the Iraqi army fell apart despite benefiting from billions of dollars of US money – and military hardware – meant to ensure security.
De volgende aflevering van Corbett Report werpt meer licht op de huidige gebeurtenissen. James Corbett praat met Sibel Edmons, die in de omgeving van Suruc (in Turkije) was toen daar op 20 juli j.l. een "aanslag van ISIS" plaats vond op jonge Koerden die daar samenkwamen om te bespreken hoe ze het nabijgelegen Kobani (in Syrië) konden helpen. Luister en huiver, want niets is tegenwoordig nog wat het lijkt!
Syria Invasion Watch – Sibel Edmonds on Turkey, False Flags and the Timeline to War duurt 32 minuten.
Gepubliceerd op 13 aug. 2015
Syria is once again the centre of attention with Washington and Ankara agreeing on "ISIS-free zones" that each partner is interpreting in its own way. Joining us to explore those interpretations is Sibel Edmonds of BoilingFrogsPost.com, just back from the region with intel on a possible timeline for increased military action in the country. In this conversation James and Sibel discuss Turkey's battle against the Kurds and how the Kurdish population are being used by the US and Israel as pawns in a complex chess game. We also examine the recent bombing in Suruc and signs that it was a false flag provocation.
p.s.: De link naar de website van Sibel Edmonds: Boiling Frogs
Verder een Turks artikel, vertaald in het Engels, over de gespannen binnenlandse situatie in Turkije: Speculation about Turkish civil war is just that