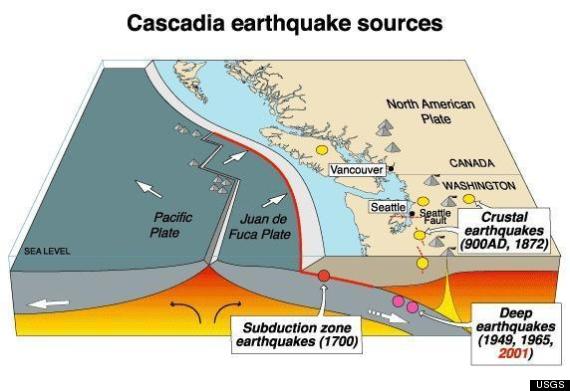 Ze noemen het "The really big one" en sinds half juli is het groot nieuws in de Verenigde Staten. Het begon met een goed artikel in The New Yorker over de Cascadia breuklijn of Cascadia subduction zone, die loopt langs de westkust van Noord Amerika, van San Francisco tot Vancouver. De tektonische plaat van de Stille Oceaan kruipt daar onder die van Noord Amerika. Dat leidt tot een geologische spanning die kan leiden tot een aardbeving van 8.7 tot 9.2 op de schaal van Richter, een kwartier later gevolgd door een 30 meter hoge tsunami.

Het nieuws werd overgenomen door Fox News en CBS, waarna allerlei alternatieve Christenen weer eens waarschuwden voor de "eindtijd", de Apocalyps die volgens hen wordt voorspeld in de Bijbel en dus zeker zal komen. Het is inderdaad vrij zeker dat de Cascadia breuklijn op den duur een aardbeving plus tsunami kan veroorzaken, maar de vraag is: wanneer? Het hele continent van Noord Amerika is geologisch minder stabiel.
Op BOUblog staan reeds artikelen over De San Andreasbreuklijn (juli 2014), De Yellowstone super-vulkaan (idem) en De New Madrid Missouri breuklijn (november 2014). Allemaal kunnen ze "elk moment" leiden tot een mega natuurramp, maar hoewel er voortdurend kleine aardschokken worden geregistreerd in deze gebieden, blijkt "The Really Big One" tot op heden slechts een komkommer!
Cascadia Rising: Scientists warn of devastating earthquake ripping apart Pacific Northwest
Gepubliceerd op 16 jul. 2015
Seismologists and federal officials are predicting a devastating earthquake in the Pacific Northwest along the Cascadia Fault line that could, theoretically, leave tens of thousands of people dead and even more displaced. RT's Simone Del Rosario speaks with seismologist John Vidale about the possibility of a disaster striking.
Is a massive earthquake in Pacific Northwest "overdue"?
Gepubliceerd op 16 jul. 2015
Experts think it will trigger the worst natural disaster in North American history. Roughly 80 miles off the coast of Oregon, there's a place deep down inside the Earth that few people living along the West Coast know about. But they will someday, years or even decades from now.
That's because this is a place called the Cascadia subduction zone, where a pair of tectonic plates are now grinding up against one another under the Pacific Ocean, and they're headed — slowly but inevitably — toward a moment when the pressure now building there will become too great to bear.
When that happens, a huge swath of the Pacific Northwest will be engulfed in the worst natural disaster in the history of North America, writes journalist Kathryn Schulz in a terrifying new article published this week in the New Yorker, titled "The Really Big One."
Het is allemaal best angstaanjagend, maar het blijkt al vele jaren bekend. Na de verwoestende tsunami op 2e Kerstdag 2004 in de Indische Oceaan, maakte de BBC een documentaire over de Cascadia breuklijn. Voor wie geïnteresseerd is in geologie biedt deze docu inzicht in de manier waarop men de komende grote aardbeving kan voorspellen, namelijk NIET !!!
MegaQuake Could Hit North America – BBC (Full Documentary) duurt 48 minuten.
3 Reacties op "De Cascadia breuklijn"