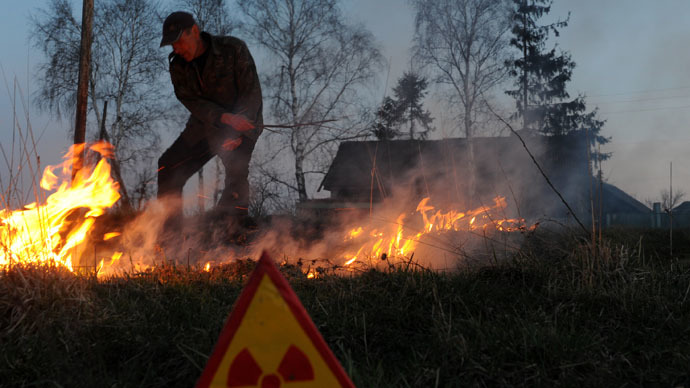 Over Fukushima zullen we maar zwijgen, want dat is echt te erg. Maar Chernobyl liep toch goed af? Wat héét? Chernobyl is opnieuw heet. Rond die verwoeste kerncentrale die is ingepakt in een langzaam afbrokkelende betonnen sarcofaag, ligt een gebied met een straal van 40 km waar de straling te hoog is voor menselijke bewoning. In dat gebied woeden nu bosbranden, alwéér! Want eind april van dit jaar was dat ook al het geval. De rook van deze branden is radioactief en de "regering" van Oekraïne heeft het te druk met de bestrijding van de onafhankelijke republieken in de Donbass, om zich ook nog druk te maken over de volksgezondheid. Radioactieve elementen die worden geproduceerd in een kerncentrale, verdwijnen niet. Ze kunnen zich wel verspreiden.

RAW: Massive fire in Chernobyl exclusion zone around nuclear plant
Gepubliceerd op 29 apr. 2015
Fire engulfed a large sector of woods in the exclusion zone around the destroyed Chernobyl nuclear power plant on Tuesday. The fire was the worst in the area for more than two decades, the Ukrainian Prime Minister said.

Forest Fires Heading for Chernobyl Nuclear Plant – Ukraine Interior Ministry
Global Research, April 29, 2015
The Ukrainian National Guard has been put on high alert due to worsening forest fires around the crippled Chernobyl nuclear power plant, according to Ukraine Interior Minister Arsen Avakov.

"The forest fire situation around the Chernobyl power plant has worsened," a statement on Avakov's Facebook page says.

"The forest fire is heading in the direction of Chernobyl's installations. Treetop flames and strong gusts of wind have created a real danger of the fire spreading to an area within 20 kilometers of the power plant. There are about 400 hectares [988 acres] of forests in the endangered area."
Chernobyl fires send radiation particles in atmosphere
'No one tells us the truth!' Hotspots remain near Chernobyl, locals haunted
Gepubliceerd op 2 mei 2015
Firefighters in Ukraine say they've extinguished the last wildfires near the abandoned Chernobyl nuclear power plant. While officials are assuring that no increase in radioactivity has been registered, some locals are not convinced.
Chernobyl zone in flames: Strongest blaze in 23 years, people evacuated, fire 20km from re
Gepubliceerd op 4 jun. 2015
Danger near Chernobyl, as a massive wildfire rapidly moves towards the former nuclear plant, raising the threat of spreading radiation. RT LIVE .
Ukraine: Wildfire engulfs Chernobyl buffer zone for second time in months
Gepubliceerd op 30 jun. 2015
Wildfires engulfed large areas of the exclusion zone surrounding the defunct Chernobyl plant in Ukraine, early Tuesday morning, the second time the nuclear disaster site has experienced such fires within three months.
Radiation spikes in Chernobyl exclusion zone, wildfires still raging
Gepubliceerd op 2 jul. 2015
Ukrainian nuclear inspectors have measured a significant increase in radiation in the Chernobyl exclusion zone caused by heavy wildfires raging in close proximity to the crippled nuclear power station.
Japan Nuclear Expert: Simply impossible to remove melted fuel from Fukushima — Corium "has spread all over… could actually have gone through floor of containment vessel" — Only way to deal with these reactors releasing dangerous radiation is to cover in concrete — Will take centuries of work (VIDEO)
Fukushima – Chernobyl ☢ Russian ☢ Roulette ☢ duurt een uur.