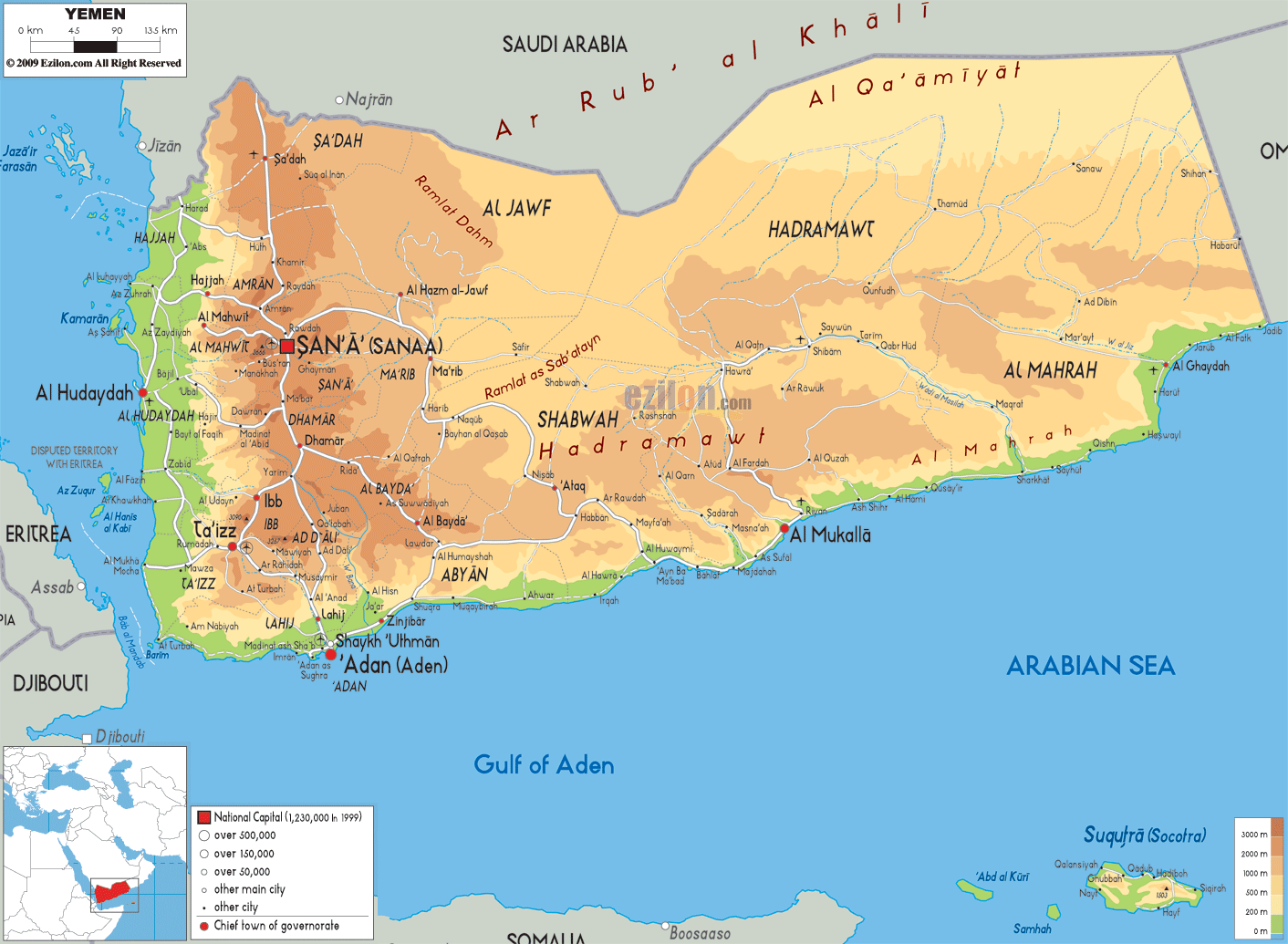 We hebben sinds 11 september 2001 de ene oorlog na de andere zien oplaaien in het Midden Oosten: Nothing is Right in the Middle East. Jemen of Yemen is het volgende slachtoffer van de terreur tegen het terrorisme. Jemen is arm, maar het is zeer strategisch gelegen. De samenleving bestaat uit patriarchale stammen, elk met een eigen territorium, maar tegenwoordig is er veel migratie van het platteland naar de steden. Ongeveer 53% van de bevolking is Soennitisch en 47% is Shi´itisch. Onder de Soennieten in het zuid-oosten heeft Al Qaida aanhang, maar de Shi'iten in het noord-westen zijn ook in opstand gekomen. Men noemt hen Houthis en zij hebben de hoofdstad veroverd. Het buurland Saoedi Arabië is het land nu aan het bombarderen!

Het landschap van Jemen is zeer divers. Een vruchtbare kuststreek, een hoogland doorsneden met diepe ravijnen en een uitgestrekte zandwoestijn langs de onduidelijke grens met Saoedi Arabië maken Jemen tot een land waar men goed verstoppertje kan spelen. Daar staat tegenover dat de Amerikaanse drones iedere bruiloft kunnen veranderen in een bloedbad met gehakt. Dat doen ze al jaren, want in ieder ravijn kan Al Qaida zich verschuilen en de strijd tegen het terrorisme gaat voor.
The beautiful Yemen duurt 9 minuten.
Over de achtergrond van de oorlog tegen Jemen staan nu duidelijke artikelen online. Bij deze mijn verzameling:
Revolutionary Yemen Faces Wall Street-Saudi Attack

"Religious Apartheid"

One particularly vulgar aspect of Saudi society is its repression of religious minorities. Those in Saudi Arabia who practice Shia Islam face severe discrimination. They are legally barred from holding a number of jobs. Saudi schools teach children that Shias are apostates, and that Shia Islam is a "Jewish conspiracy" against the Saudi king.

In Saudi Arabia there are currently 300 schools for Shia girls. Not a single one of them is even permitted to have a principal who practices the Shia religion. Testimony before the US Congress described Saudi Arabia's treatment of Shia Muslims as "religious apartheid."

The monarchy's repression of the Shia community extends beyond its own borders. In the Saudi-aligned Gulf states such as Bahrain, Oman, and the United Arab Emirates, Shias are often confined to occupations involving manual labor. The leaders of Shia communities face political repression and harassment by the government if they organize for their rights or even hold routine religious services.

Since the 1990 overthrow of the socialist Democratic People's Republic of Yemen, the country now known as the Republic of Yemen has been led by a corrupt, repressive US-backed regime that heavily depends on Saudi military support. Minority Shias in Yemen face the same discrimination as in other US/Saudi regimes throughout the region.
Yemen: Saudi Arabia has Launched a War Against Iran
On March 26 the forces of a hastily formed coalition composed of Saudi Arabia and the GCC countries have launched a military operation against Yemen code named "Decisive Storm." The stated purpose of this operation was the restoration of "lawful authority", namely Abd Rabbuh Mansur Hadi who had previously resigned from his position as Yemeni president. The authority in question was quick to flee the town of Aden by boat, under the heavy protection of Saudi special forces. Another goal of this operation is the dislodging of the Houthis from Sana'a and the complete disarmament of their forces. While the ground invasion of Yemen has yet to be started (Saudi Arabia has accumulated a total of 150 thousand soldiers on the Yemeni border), coalition aircraft continue to carry out a systematic bombing of command posts and positions of the Houthis, along with civilian infrastructure. It was reported that the international airports of Sana'a and Aden came under heavy fire. The coalition is using more than 180 combat planes, 100 of them are flying under the KSA flag, while another 30 were provided by the UAE. To justify this aggression Riyadh has started condemning Iran of illegal support of the Houthis, along with its alleged attempts to destabilize the situation in the Arab world, along with Shia expansionism in Iraq, Syria, Lebanon and the Gulf countries. It's curious that Saudi Arabia informed US authorities only an hour before the actual bombing, which is a rather unprecedented way to launch aggression for a US ally. Naturally, questions are being asked – why has the Arab aggression against Yemen started so abruptly and unexpectedly? After all, the situation has evolved according to the predictions of international experts.
American Hell for Yemen: US Still Has NO Rival for Bringing Destruction to Millions of People around the World
Freedom Rider: American Hell for Yemen

The U.S.-spawned whirlwind of carnage and destruction has wrecked the societies of Iraq, Libya, Syria, Somalia and Yemen, yet most Americans feel themselves blameless. "The people, the corporate media and the political system all accept that their government has the right to intervene in the affairs of other nations and that it is always right and moral in its claims." They behave like zombified cogs in an imperial death machine.

The United States used the Al Anad airbase in Yemen as the staging area for drone attacks which killed some 1,000 people since 2009. Those crimes were committed under the guise of fighting terrorism but now that same place is the location of karmic justice for the American government and its ally, Saudi Arabia. United States Special Forces fled from Al Anad before it was overrun by Ansar Allah rebels, also known as the Houthis.
Yemen Echoes of 1930s Aggression and Descent into Barbarism
March 31, 2015 "ICH" – "SCF" – Both the Arab League and the United Nations have fully transformed themselves into the ill-fated League of Nations that more than 70 years ago disgraced itself into oblivion when it failed to condemn foreign aggressions that eventually led to the cataclysm of World War Two.

As delegates gathered in Egypt's resort city of Sharm el-Sheikh for the Arab League last weekend, nearly half of its member states were at the same time openly engaged in an aerial blitz on one of the League's weakest countries – Yemen.

Far from issuing any misgiving, or appeal for restraint, the League fully endorsed the onslaught on Yemen and even went on to call for a new «unified military force» to repeat the action in other countries where a «security risk» is deemed. This is a cart blanche for further foreign military interventions bypassing the United Nations Security Council. In other words, it is open season for lawless aggression.

With a population of only 24 million and half of them living in poverty, Yemen is one of the poorest countries in the Arab region. It is also one of the founding members of the Arab League, which was formed in 1945 at the end of the Second World War.

Since last week, scores of Yemeni civilians, including children, have been killed in a massive bombing campaign led by Saudi Arabia and co-ordinated by the United States. The bombing coalition of 10 countries include Egypt, North Sudan, Morocco and the Persian Gulf Arab states of Qatar, United Arab Emirates, Kuwait and Bahrain. More than 200 fighter jets from those countries have been reported carrying out air strikes on the Yemeni capital, Sanaa, as well as on the southern port city of Aden and surrounding countryside.
Origins of the crisis in Yemen
The Geopolitics Behind the War in Yemen
By Mahdi Darius Nazemroaya
March 29, 2015 "ICH" – "SCF" – The United States and the Kingdom of Saudi Arabia became very uneasy when the Yemenese or Yemenite movement of the Houthi or Ansarallah (meaning the supporters of God in Arabic) gained control of Yemen's capital, Sanaa/Sana, in September 2014. The US-supported Yemenite President Abd-Rabbuh Manṣour Al-Hadi was humiliatingly forced to share power with the Houthis and the coalition of northern Yemenese tribes that had helped them enter Sana. Al-Hadi declared that negotiations for a Yemeni national unity government would take place and his allies the US and Saudi Arabia tried to use a new national dialogue and mediated talks to co-opt and pacify the Houthis.

The truth has been turned on its head about the war in Yemen. The war and ousting of President Abd-Rabbuh Manṣour Al-Hadi in Yemen are not the results of «Houthi coup» in Yemen. It is the opposite. Al-Hadi was ousted, because with Saudi and US support he tried to backtrack on the power sharing agreements he had made and return Yemen to authoritarian rule. The ousting of President Al-Hadi by the Houthis and their political allies was an unexpected reaction to the takeover Al-Hadi was planning with Washington and the House of Saudi.
How to Decipher Yemen: Where the Enemy of Your Enemy Is Also Your Enemy
April 01, 2015 "ICH" – "DMT" — Yemen, like Afghanistan, has a long reputation as a quagmire for foreign invaders. Saudi Arabia could break its teeth there if the U.S. does not constrain it. Astonishingly, Yemeni events have now conspired to bring about the supposed intervention of some 10 regional powers in one of the most hyped events in the Arabian Peninsula of recent times.

Most of this proxy war makes little sense: the threats emanating from Yemen are distorted and exaggerated, the stakes are actually relatively low (except for Yemenis), any imposed settlement is highly elusive, and the costs to those engaged may be high. For the U.S., it can be once again something of a lose-lose situation, where the enemy of my enemy is often also my enemy.

There are fourth myths about Yemen that need to be sorted out:
CrossTalk: Yemen's Turn (pre-recorded) duurt 24 minuten.
Gepubliceerd op 3 apr. 2015
Now it's Yemen's turn: Saudi Arabia – the richest petro-kingdom – is militarily assaulting the Arab world's poorest state – and it has Washington's full backing. Riyadh has made it clear it wants its man back in power in Yemen and the surrender of the Houthis. Neither is likely to happen. But a regional war is. CrossTalking with Sami Ramadani, Ali al-Ahmed, and Ervand Abrahamian.
Mochten er straks Jemenitische vluchtelingen aankloppen in Nederland, of Jemenitische bootvluchtelingen verdrinken in de Middellandse Zee, zeg dan niet dat deze mensen moeten worden opgevangen in de regio, want heel het Midden Oosten is een zooitje! Nothing is Right in the Middle East! Met dank aan de terreur tegen het terrorisme.