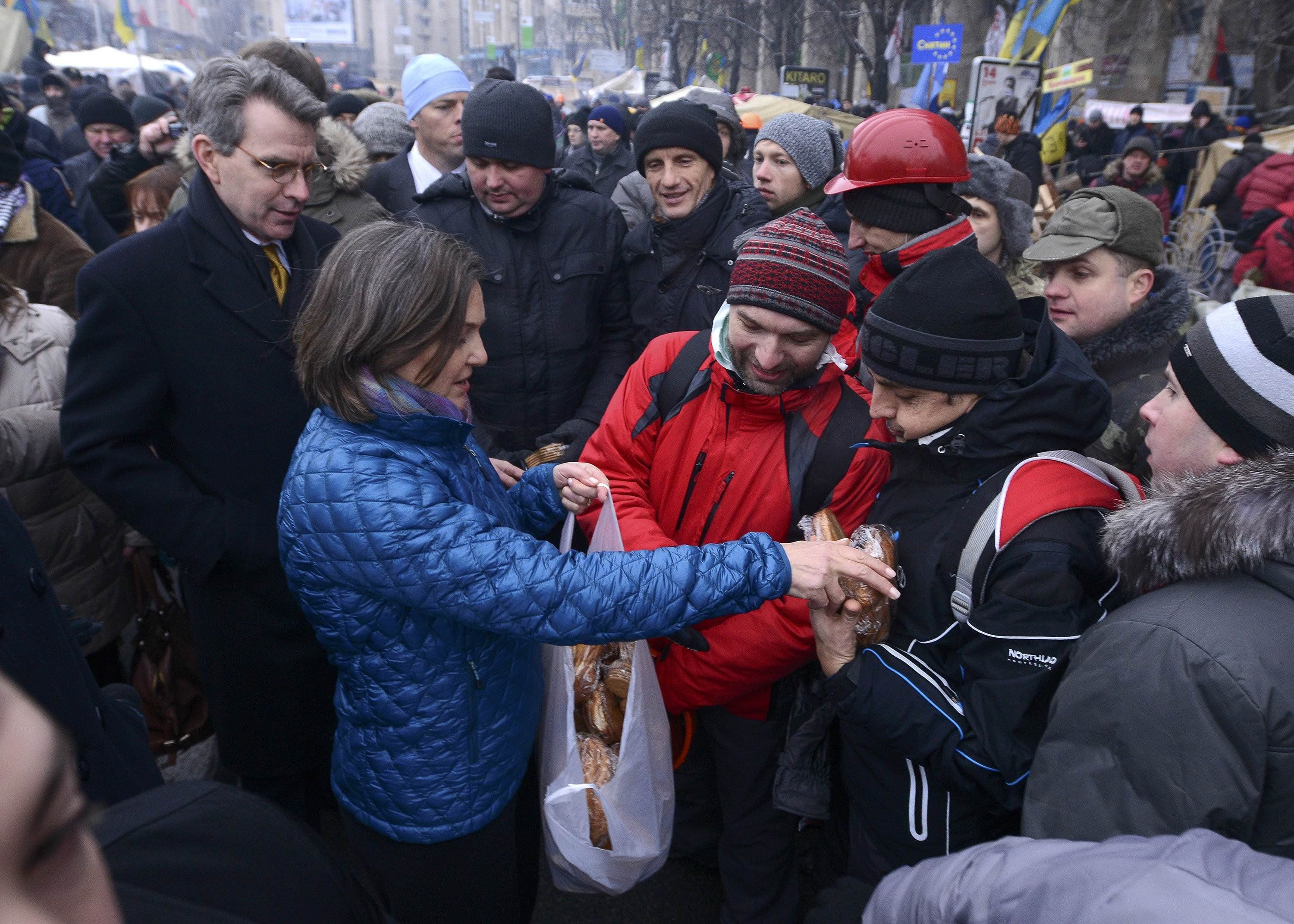 Victoria Nuland is terug in Oekraïne. Ze deelt broodjes uit aan de demonstranten op het Maidan plein. Oh nee, dat was in februari van dit jaar. Ze had toen reeds 5 miljard dollar besteed aan een regime-change. Haar favoriet Yats werd eerste minister en de "separatisten" in de Russisch sprekende provincies kregen bommen op de kop. Ook nu komt Victoria niet met lege handen. Het leger van de fascistische junta in Kiev krijgt weliswaar geen dodelijke wapens (die komen langs een andere weg binnen), maar ze krijgen wel kogelvrije vesten en winterkleding. Wacht dus maar tot het winter wordt in Oekraïne! Dan wordt de strijd met vernieuwde kracht voortgezet. De VS wast intussen zijn handen in onschuld!

US delivers technical aid to Ukraine but warns over security
Sinds 5 september is er een "wapenstilstand" van kracht, maar het bloedbad gaat gewoon door: Al meer dan 300 doden in Oekraïne sinds wapenstilstand Het is allemaal zo zinloos! Oekraïne is nu een failliete boedel. Het land is rijk aan grondstoffen en het was altijd de graanschuur van de USSR. Maar tegenwoordig is niets meer wat het lijkt!
CrossTalk: Ukraine's Dead End duurt 24 minuten.
Stephen Cohen is een Amerikaanse emeritus hoogleraar die is gespecialiseerd in moderne Russische geschiedenis en de relatie tussen Rusland en de VS. Hij waarschuwt dat de bemoeienissen van de VS in Oekraïne kunnen leiden tot een kernoorlog tussen de VS en Rusland, maar in de VS wordt naar hem niet geluisterd.
NATO games in Ukraine push world 5 minutes before nuclear midnight – Stephen Cohen duurt 25 minuten.
Intussen is er nog de kwestie van de oorlogsmisdaden in Oekraïne. President Poetin pleit voor een onderzoek, maar in Kiev doet men alsof er niets aan de hand is.
War crimes swept under carpet during Ukraine conflict?
Een van de hete hangijzers is het bloedbad in februari op het Maidan plein. Sluipschutters schoten zowel op de demonstranten als op de politie, maar uit de volgende reportage blijkt dat er ook onder de demonstranten mensen met wapens waren. President Viktor Yanukovych kreeg de schuld en vluchtte naar Rusland. De daders (of opdrachtgevers) moeten eerder worden gezocht in de huidige regering van Oekraïne!
Maidan Massacre duurt 52 minuten.
In de oostelijke provincies gaat de verwoesting intussen gewoon door. De volgende reportage begint half augustus, maar ook na de "wapenstilstand" van 5 september blijft het leger van Oekraïne schieten op dorpen, woonhuizen en alle mogelijke infrastructuur. De reportage bevat gruwelijke beelden! Het is dan ook een gruwelijke oorlog, een slachtpartij met de bedoeling om de hele bevolking te verjagen…
Ukraine Crisis: Zionist-led terror against people of Donbass continues duurt een uur en 17 minuten.
23 Reacties op "Victoria Nuland is terug in Oekraïne"