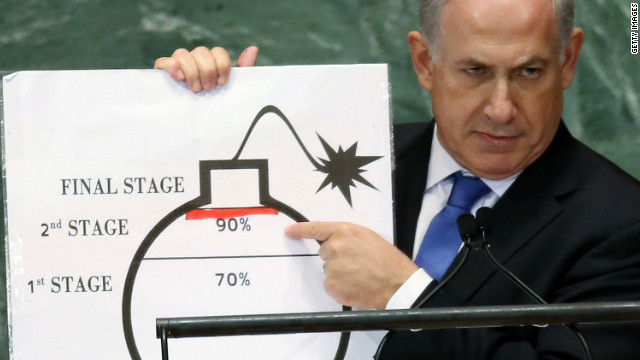 Vorige week kwam op het NOS-journaal een fragment voorbij van de Algemene Vergadering van de Verenigde Naties. President Benjamin "Bibi" Netanyahu van Israël had namelijk een bom getekend! Deze diende om uit te leggen hoe gevaarlijk Iran was. Het leek meer iets voor het jeugdjournaal of Sesamstraat, want dit aanschouwelijk onderwijs had een niveau van maximaal groep 3 van de OBS, maar uit de groen gemarmerde achtergrond bleek dat het de Verenigde Naties was! Dat Israël een illegaal en geheim arsenaal atoombommen bezit, is dank zij Mordechai Vanunu een feit van algemene bekendheid. De Duitse schrijver Günter Grass heeft vorige week een gedicht gepubliceerd over Vanunu: "Ein Held unserer Tage".

In de Nederlandse media wordt Günter Grass daarom weggezet als provocateur, maar over de bom van Bibi niets dan goeds! Mordechai Vanunu heeft 18 jaar in de gevangenis gezeten, waarvan 11 jaar in eenzame opsluiting, wegens landverraad!
Toen Bibi zijn bom presenteerde, liepen de verzamelde presidenten en regeringsleiders niet demonstratief de zaal uit, terwijl die bom van Bibi toch een beledigend gehalte had. Wat een domme bom! Wat een dwaze presentatie! Denkt Bibi nou echt dat hij praat tegen idioten die niet weten hoe het zit met de kernwapens van Israël? Gelukkig was die bom nog niet helemaal vol. De rode lijn was nog niet overschreden. Maar als de bom van Bibi bijna bomvol is, zal Israël met behulp van de VS Iran bombarderen. De Derde Wereldoorlog is daarmee uitgesteld tot volgend jaar of zo. Misschien is 21 december 2012 ook wel een geschikte datum, omdat de wereld dan toch vergaat volgens de Mayakalender… Maar zelfs in Israël heeft men er eigenlijk geen zin in: Israeli strike on Iran without US would be a 'disaster,' World Jewish Congress president says
Uiteraard zijn op die domme bom van Bibi de nodige commentaren losgebarsten. Zo schreef Robert Fisk in The Independent: Benjamin Netanyahu's Warning Reveals His Moments of Memory Loss
Not since the last set of cartoons flourished in the UN Donkey House has the world been so gobsmacked. Then it was Colin Powell (I was in the Security Council chamber as a witness to this nonsense in 2003) who displayed his own cartoon of white-coated Iraqi chemists making weapons of mass destruction in a mobile laboratory. It was a railway train, for heaven's sake. And, unlike Bibi's bomb and fuse, it was actually meant to be a railway train. Cartoons, you see, can be taken literally or metaphorically. Or just plain insult the intelligence of ordinary folk; like Bibi's – or cartoons of the Prophet Mohamed, for that matter. They all go "BANG" in the end. And I can see why Israel's sorrowful defenders had to trash Bibi's cartoon yesterday. Sure, it was awful – but the MESSAGE, that was the thing. Don't let the cartoon distract you from the truth (albeit that cartoons are supposed to contain an inner truth, are they not?) and the truth according to Bibi was that Iran could have a nuclear bomb "BY THE MIDDLE OF NEXT YEAR".
Benny Netanyahu's Magic Marker and the Red Line!!! duurt 5 minuten.
'Bibi seeks excuse for Iran war' duurt 25 minuten
'Nuclear Iran same as nuclear-armed al-Qaeda': Netanyahu full UN 2012 speech duurt 32 minuten te lang!
Terwijl de bom van Bibi het NOS journaal haalde, zwegen de media over de toespraak van president Ahmadinejad van Iran. Zijn kritiek op de huidige wereldorde kwam niet in de krant. De hele toespraak werd wel uitgezonden door o.a. Russia Today en door CBS. Het is indringende aanklacht tegen het huidige oorlogsbeleid van de VS en zijn bondgenoten!
'Сurrent world order based on injustice': Ahmadinejad full 2012 UN speech duurt 30 minuten. Een volledig transcript staat hier.
Toegift: Deek Jackson: MASS SUICIDE AT UN duurt een kwartier.