Toen Israël tijdens de jaarwisseling van 2008-2009 Gaza plat bombardeerde, werd als reden gegeven dat de Palestijnse regering van Hamas de staat Israël bedreigde. De reden bleek echter een gasveld voor de kust van Gaza. Israël wilde voorkomen dat de Palestijnen dit gasveld zouden exploiteren! Eind 2010 werd bekend dat onder het oostelijke bekken van de Middellandse Zee een veel grotere bel aardgas ligt: het Leviathan gasveld. Het werd ontdekt door Noble Energy uit Texas en de hoeveelheid aardgas blijkt gigantisch!

Israel's Leviathan Natural Gas Field May Boost GDP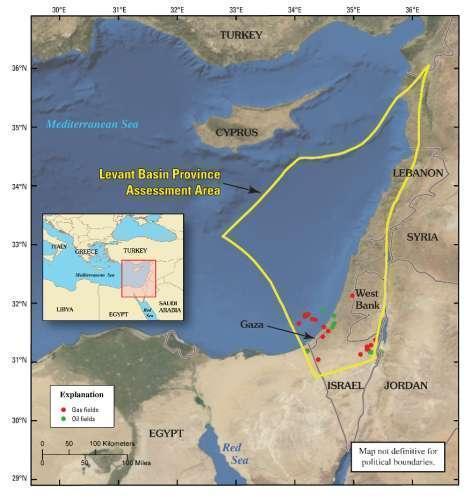 Het aardgasveld strekt zich uit van de kust van Israël en Libanon tot Cyprus en het is van grote invloed op de huidige politiek in het Midden Oosten. Nu aardolie schaarser wordt en de oliewinning steeds duurder, is aardgas als energiebron een goed en nog vrij goedkoop alternatief. Het vervoer van aardgas is echter minder eenvoudig dan dat van aardolie. Men kan olie in een vat gieten of in een tanker vervoeren, maar aardgas is vluchtig en het transport vindt plaats onder druk. Een gaspijp is de eenvoudigste methode, al kan men aardgas ook vloeibaar maken bij een lage temperatuur en hoge druk. Vloeibaar aardgas of LPG is echter uiterst explosief!
In plaats van dat men blij is met deze geweldige vondst, maakt het gasveld de politiek in het Midden Oosten nog meer explosief. Twee recente artikelen van de historicus F. William Engdahl gaan over de politieke implicaties van dit gasveld.
The New Mediterranean Oil And Gas Bonanza
Part I – Israel's Levant Basin – A New Geopolitical Curse?
By F. William Engdahl, Author of Century of War – Anglo-American Oil Politics
2-19-12
Recent discoveries of not just significant, but huge oil and gas reserves in the little-explored Mediterranean Sea between Greece, Turkey, Cyprus, Israel, Syria and Lebanon suggest that the region could become literally a "new Persian Gulf" in terms of oil and gas riches. As with the old Persian Gulf, discovery of hydrocarbon riches could as well spell a geopolitical curse of staggering dimension.

Long-standing Middle East conflicts could soon be paled by new battles over rights to oil and gas resources beneath the eastern Mediterranean in the Levant Basin and Aegean Sea. Here we explore the implications of a gigantic discovery of gas and oil in offshore Israel. In a second article we will explore the implications of gas and oil discoveries in the Aegean between Cyprus, Syria, Turkey, Greece and Lebanon.
The New Mediterranean Oil and Gas Bonanza
Part II: Rising energy tensions in the Aegean—Greece, Turkey, Cyprus, Syria
by F. William Engdahl
The discovery in late 2010 of the huge natural gas bonanza off Israel's Mediterranean shores triggered other neighboring countries to look more closely at their own waters. The results revealed that the entire eastern Mediterranean is swimming in huge untapped oil and gas reserves. That discovery is having enormous political, geopolitical as well as economic consequences. It well may have potential military consequences too.
Preliminary exploration has confirmed similarly impressive reserves of gas and oil in the waters off Greece, Turkey, Cyprus and potentially, Syria.

Greek 'energy Sirtaki'
Not surprisingly, amid its disastrous financial crisis the Greek government began serious exploration for oil and gas. Since then the country has been in a curious kind of a dance with the IMF and EU governments, a kind of "energy Sirtaki" over who will control and ultimately benefit from the huge resource discoveries there.
En Russia Today schreef: Israel's oil and gas discovery fuels Middle East tension
Om het aardgas te verkopen aan Europa, moet er een pijplijn komen van Cyprus naar Griekenland. De voormalige Griekse minister van economische zaken is nu minister van energie! In november 2011 bezocht hij Israël, om te praten over aardgas!
Exclusive interview with Greek Minister Giorgos Papakonstantinou
"We are trying to make Greece the hub for gas transit to northern European countries either via Italy or through the Balkans," Greece's environment, energy and climate change minister stressed to The Jerusalem Post in an exclusive interview on Monday morning in Jerusalem.
We begrijpen nu waarom Griekenland niet uit de Euro mag stappen, maar de ene miljardenlening na de andere krijgt. Het Amerikaanse bedrijf Nobel Energy, dat het gasveld zal exploiteren in wat Israël beschouwt als zijn eigen Middellandse Zee, heeft een vestiging op het Griekse deel van Cyprus. Over enkele jaren zal Griekenland daarom cruciaal zijn voor de aanvoer van aardgas naar Europa. Nu Griekenland min of meer failliet is, wil men het land voor die tijd dwingen om zijn infrastructuur te privatiseren. De winst van het aardgas gaat dan niet naar de Griekse bevolking, maar naar de corporaties.
Als we kijken naar de Arabische Lente die begin vorig jaar niet zo heel erg spontaan ontstond, dan blijkt dat alle Arabische landen waar deze zogenaamde lente tot een machtswisseling leidde, exporteurs van aardgas zijn. Libië en Tunesië leverden aardgas aan Italië. Ook in Egypte wordt aardgas gewonnen en dit wordt via een pijpleiding vanuit El Arisch naar Israël, Jordanië, Syrië en Libanon geëxporteerd. Het plan was om deze pijpleiding door te trekken naar Turkije, maar het eindpunt ligt op dit moment nog in Homs.
In het oosten van Syrië wordt aardolie gewonnen, evenals in Irak. Een oudere oliepijplijn loopt van Irak naar Homs, waar een olieraffinaderij staat. Nu is Homs toevallig ook de stad die was bezet door Al Qaida rebellen en die na een strijd van drie weken nu is heroverd door het Syrische leger. Reeds in maart vorig jaar waarschuwde Patrick Seal voor de explosieve toestand in Syrië! The Syrian Time Bomb
Opvallend is ook dat de pijpleidingen voortdurend exploderen. Op 3 januari 2012 ontplofte er een pijplijn in Homs:
Syria pipeline explodes as Arab League mission limps on
The government blamed a Syria pipeline explosion today on 'terrorists.' Meanwhile, concerns mount that the Arab League mission to Syria won't stop the fighting.
Op 15 februari ontplofte er weer een pijplijn in Homs:
Explosion damages pipeline in Syrian city of Homs
Activists said the pipeline carried crude oil from the Rumeila fields in the eastern Syriac Desert to the Homs refinery, one of two in the country.
Op maandag j.l. was het alweer raak, nu in het oosten van Syrië:
UPDATE 1-Explosion hits oil pipeline in eastern Syria
* Explosion hits pipeline as troops, tanks deploy in city
* Sources say rebels have re-armed in recent months

AMMAN, March 5 (Reuters) – An explosion hit an oil pipeline near the town of Quraiya in Syria's eastern province of Deir al-Zor on Monday as Syrian troops began a military operation in the region, opposition activists said.
They said a bomb appeared to have been detonated near the pipeline, which runs to a refinery on the coast, and smoke could be seen five km (three miles) away.
"The explosion was big. It occurred two hours ago as armoured trucks and tank carriers spread in the region. They already stormed two villages – Boqros and Mouhassan – in what could be a prelude to a fullscale military assault," Sheikh Ismael, one of the activists, told Reuters.
Ook de gasleiding die vanuit Egypte naar Israël en Jordanië loopt, ligt voortdurend onder vuur:
6 maart 2012: Egypt's gas pipeline to Israel and Jordan bombed for 13th time.
Voor de vondst van het Leviathan gasveld waren Irak en Iran de meest voor de hand liggende leveranciers van olie en aardgas aan Europa. Olie kan per schip, al zijn olietankers tegenwoordig kwetsbaar voor de piraten die opereren rond de monding van de Rode Zee. Een pijpleiding zou daarom uitkomst kunnen brengen. Dat geldt ook voor gas, maar de meest logische route voor een pijplijn loopt via Damascus! En daar werkt die vreselijke dictator Assad samen met dat vreselijke Iran en met Rusland, waar nu die vreselijke Poetin is herkozen!
Iran, Syria: Pipeline Repairs and Diplomatic Deals
Global Intelligence, Stratfor, December 13, 2007
Iraq and Syria will speed up repairs on an oil pipeline connecting the northern Iraqi oil field of Kirkuk and the Syrian port of Banias, Iraqi Foreign Minister Hoshyar Zebari has said. The deal, which is of great importance to Syria, only came about after behind-the-scenes talks with the United States.
The Kirkuk-Banias pipeline, built in the early 1950s, was the target of a U.S. airstrike during the 2003 Iraq invasion. Since then, Sunni insurgents have struck it several times, rendering it completely inoperable since the war began. With a full nameplate capacity of 300,000 barrels per day (bpd), this 547-mile pipeline will need extensive rebuilding and repair. The patch job for the Iraqi side of the pipeline has been awarded to Russia's Stroitransgaz, a subsidiary of state-owned firm Gazprom. The repairs probably will take years to complete, according to Iraqi energy officials.
Misschien wil men liever een nieuwe pijp leggen dan de oude repareren:
Middle East oil transit routes are at risk from Islamist revolutions and Iranian threats. Does Syria present an opportunity for the West to bypass the most troubling oil chokepoints? Is that a strong driver behind the West's interest in the Syrian rebellion? Instability all along the oil road is at its highest point in decades, and Syria's history as a perennial spoiler and location as a potential energy path cannot have been missed.

Is a post-Assad Iraq-Syrian mega-pipeline in the works?
Vorige week, op 2 maart, is ook in Saoedi-Arabië een belangrijke oliepijplijn ontploft. Het gevolg zou kunnen zijn dat de olieprijzen nog verder stijgen. Want de dure olie van dit moment wordt niet veroorzaakt door economische, maar door politieke factoren, en door speculatie!
Saudi Unrest Will Trigger Further Oil Price Hikes
Dit artikel is voor een groot deel gebaseerd op twee video's naar aanleiding van een podcast van Adam Curry, die nu met John C. Dvorak een praatshow doet: No Agenda Episode 381. Ook is er een bijbehorende website: No Agenda TV. Die video's gaan nogal snel en zonder achtergrondinformatie zelfs te snel. Het wordt echter begrijpelijk als men van te voren de kaarten bekijkt die Adam Curry heeft verzameld op http://pipelines.curry.com/. Daarop is te zien hoe de pijpleidingen lopen. Deze kaart laat alle oliepijpleidingen zien! Detailkaarten staan hier. De volgende kaart laat de gasleidingen zien: de rode zijn van Rusland en de blauwe van het "vrije Westen", oftewel de grote oliecorporaties.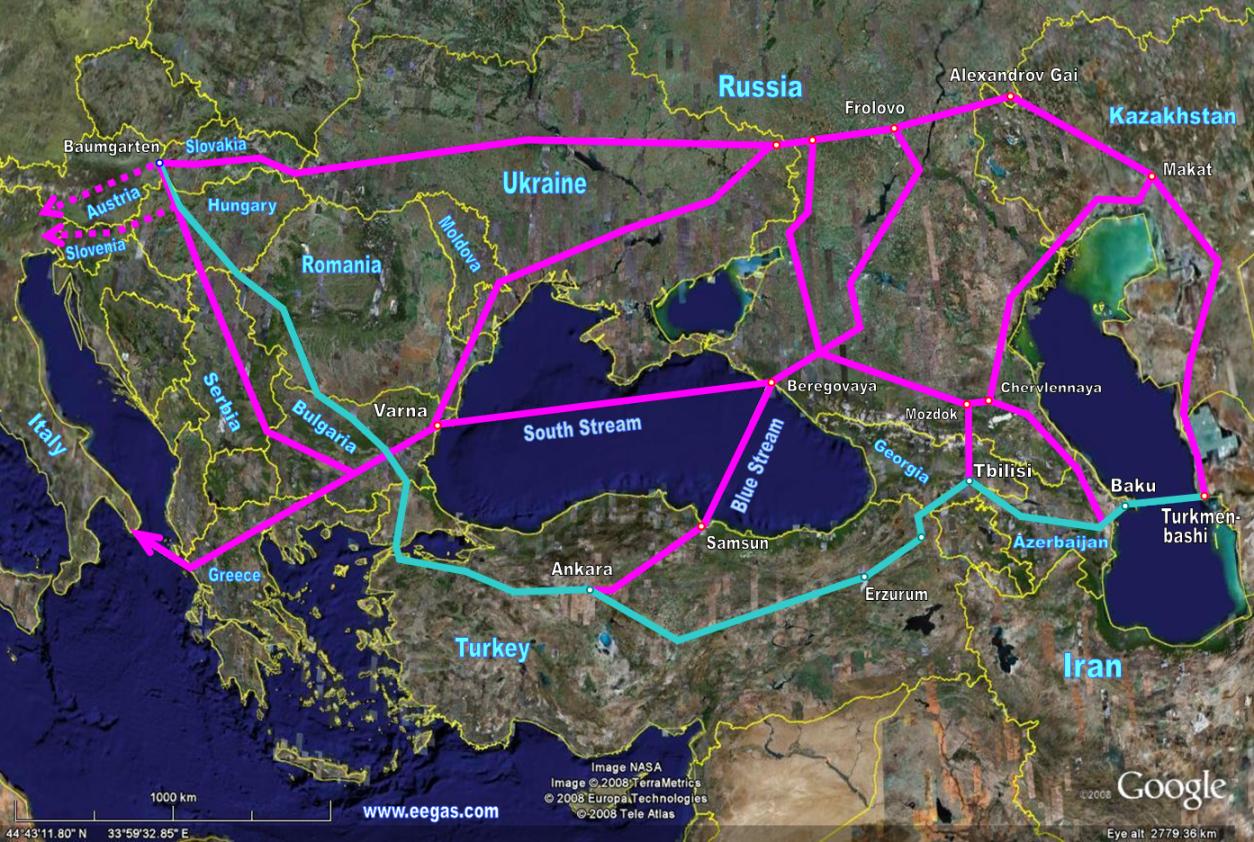 Ook komen er nogal wat namen en afkortingen voorbij. TAPI, de Trans-Afghanistan Pipeline zou gaan lopen van noord naar zuid, dwars door Afghanistan naar Pakistan, om te eindigen in de havenstad Gwadar in Balochistan. Hillary Clinton noemt dit de New Silk Road. Balochistan ligt aan de Indische Oceaan, op de grens van Pakistan met Iran.
IPI, de Iran–Pakistan–India gas pipeline, noemt men ook wel de peace pipeline. Ook deze loopt door het conflictgebied Balochistan!
De Sumed pipeline loopt langs het Suezkanaal naar de Middellandse zee. Deze oliepijplijn dient om het tankerverkeer in het kanaal te beperken. Ook deze pijplijn is kwetsbaar voor aanslagen!
De TAPI pijplijn zou lopen van Turkmenistan naar Pakistan. Yosef A. Maiman is president van de Amerikaans Joodse Merhav group, die onder andere de gasbronnen bezit in Turkmenistan.
The Merhav Group is involved in major project development and holdings in the fields of energy, petrochemicals, infrastructure, water treatment, telecommunications, agriculture, dairy, agribusiness, electronics and financial services in the Middle East, South America, Central America, Europe, The Commonwealth of Independent States and Africa.

Merhav has developed a successful record in project development, management, contracting and finance. Projects range from the landmark US$ 1.2 billion MIDOR Israeli-Egyptian joint petroleum refinery where Merhav served as co-developer and held 20% of the equity, the development in Central Asia of gas infrastructure, oil refinery and petrochemical industry projects in excess of US$ 1.6 billion, to major holdings in Venezuelan cable television.
De Trans Mediterranean pipeline is een gaspijp die vanuit Afrika naar Italië en Spanje loopt. Sinds de Arabische lente is de aanvoer echter sterk verminderd.
It's ALL about the PIPELINE! Syria, Iran, Arab Spring, etc. duurt 12 minuten.
Pas op: het geluid in de volgende video is veel sterker!
The Obama, Bush, Clinton PIPELINE WARS! duurt 15 minuten
Hier staat deze praatshow van Adam Curry. Het eerste half uur is niet zo interessant, maar na een half uur begint hij over aardolie, aardgas en Syrië. Het gaat volgens hem nu niet langer om olie, maar om aardgas! In Japan heeft men na Fukushima vrijwel alle kerncentrales gesloten. Het land heeft nu een grote behoefte aan gas. Het gaat ook over Griekenland en over Cyprus, dat voor 2/3 deel bij Griekenland hoort. Het is ook niet langer een oorlog tussen verschillende landen, maar een oorlog van corporaties die onderling vechten om de winst! Die winst zit echter niet in het gas, maar vooral in de transportkosten!
En wie heeft het grootste belang bij de verwoesting van de Arabische pijplijnen? Ik denk dat dit begint met Is en eindigt op raël. Hier is nog een kleinigheid: Leviathan is een zeemonster!