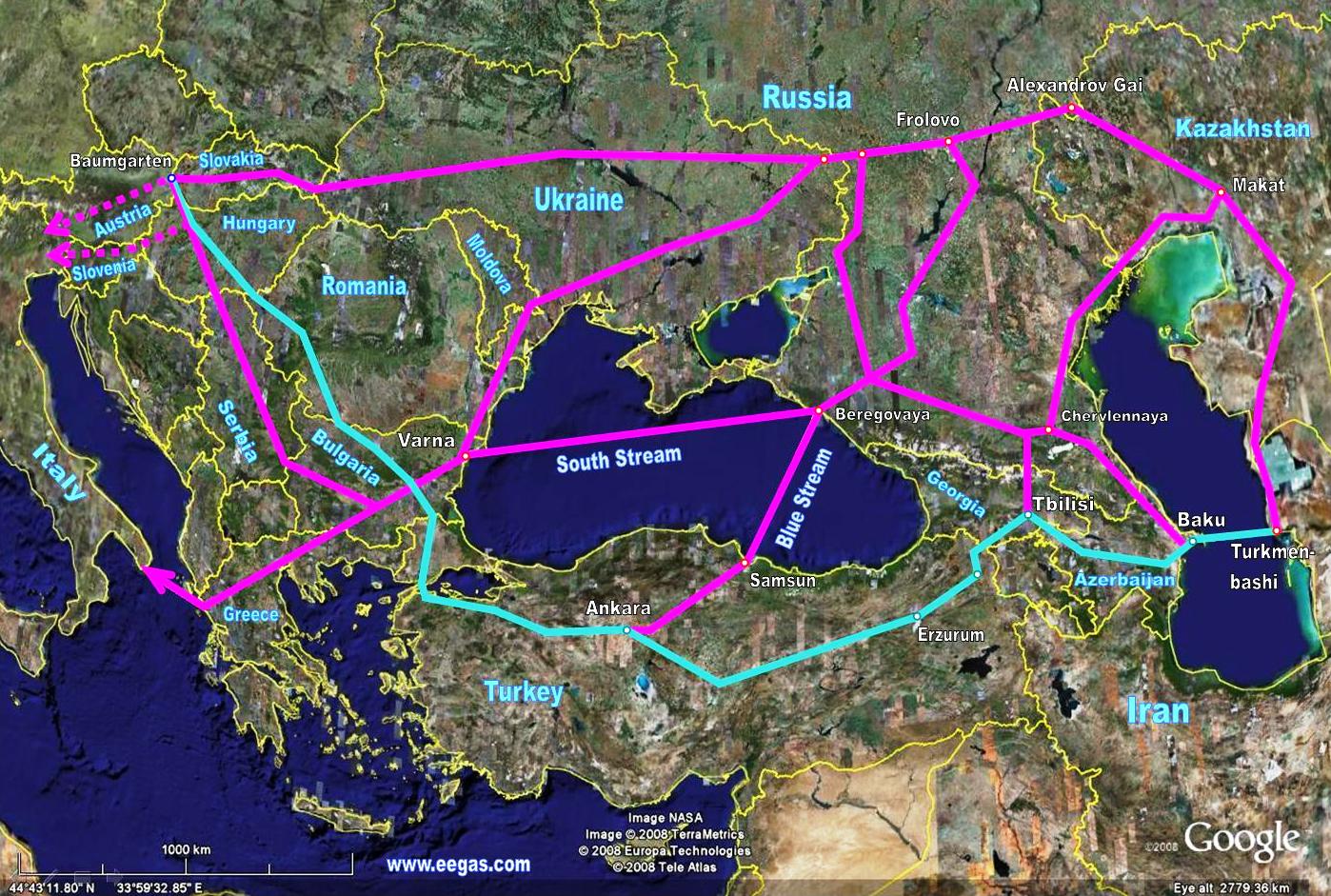 President Poetin heeft vorige week verklaard dat de geplande South Stream pijpleiding die Oost Europa en Zuid Europa via Bulgarije zou voorzien van Russisch aardgas, niet doorgaat. Rusland gaat in plaats daarvan een gaspijp leggen naar Turkije. Deze beslissing kan grote (negatieve!) gevolgen hebben voor de Europese economie, maar in de Nederlandse media was het slechts een klein berichtje. De NOS deed aan "evenwichtige berichtgeving", maar desondanks was het bericht verontrustend! Op Zapruder stond wel een duidelijk artikel met een video van het RT-programma Cross Talk.

Zowel de alternatieve pers als de Russische pers verklaren dat deze beslissing een aardverschuiving kan betekenen in de politieke en economische verhoudingen. Turkije nam al gas af van Rusland via de Blue Stream pijplijn die rechtstreeks van Rusland naar Turkije loopt via de Zwarte Zee. Dat project wordt nu uitgebreid, zodat het gas via Turkije en Griekenland naar Europa kan komen. Voor Turkije en Rusland betekent dat winst! Turkije is een NATO-land dat nu economisch nauw gaat samenwerken met Rusland! Het heeft zelfs gevraagd of het lid mag worden van de door de VS zo verfoeide Shanghai Cooperation Organization (SCO). Turkije wilde jaren lang lid worden van de EU, maar nu niet meer!
Voor Europa betekent het schrappen van het South Stream project, dat er minder gas binnenkomt. Het kan leiden tot hogere energieprijzen. De Nabucco pijpleiding ging ook al niet door. Deze zou gas uit landen rond de Kaspische Zee via Turkije naar Europa brengen, zonder dat Rusland er aan deelnam. In 2012 werd dit project afgeblazen omdat het niet rendabel was en het benodigde geld voor de investering ontbrak. De Pijpleiding die nu door Oekraïne loopt, brengt wel Russisch aardgas naar Europa, maar Oekraïne is bepaald geen betrouwbaar land. Het is met hulp van de VS veranderd in een fascistisch, oorlogszuchtig roversnest en de huidige machthebbers willen een oorlog met Rusland uitlokken. In dat geval draait Rusland gewoon de gaskraan dicht… Paul Graig Roberts zegt:
Congress demands Obama send US weapons to Ukraine in anti-Russian resolution
Een half jaar geleden was het South Stream project nog vitaal, maar nu niet meer:
Bypass Ukraine w/South Stream Gas Pipeline Treaty
Sinds 2012 is er ook nog de North Stream pijplijn tussen Rusland en Duitsland, maar deze heeft niet voldoende capaciteit om heel Europa van gas te voorzien. Maar South Stream mag niet van de VS, die een fracking energie-oorlog voert tegen Rusland! Daarom hield de EU als vazal van de VS dit project steeds tegen, ook al zou het leiden tot energie zekerheid voor Europa en winst voor de deelnemende landen tot. Nu heeft Rusland er genoeg van. William Engdahl zegt:
"Europe shot itself in the foot by stalling South Stream pipeline"
Nu Rusland niet langer doorgaat met South Stream, wil de EU dat de pijplijn er toch komt. Maar dat hadden ze dan eerder moeten bedenken!
EU's Juncker Says South Stream Pipeline Can Still Be Built
Het lijkt dat de kans op South Stream definitief verkeken is. Belangrijk is dan ook hoe de Russen denken over deze Europese politiek. Twee artikelen geven daar meer inzicht in:
The "Taming" of Europe Or Putin's New Compromise
By Politrussia
December 07, 2014 "ICH" – "Politrussia" – Putin's model of handling the internal and external partners, competitors and even enemies have long been known to all who are willing to look at things rationally. At the first stage, Putin offers a very good compromise. It is taken as a sign of weakness and rejected. At the second stage, the situation for those who rejected the compromise is rapidly deteriorating and a new compromise is offered, but significantly less profitable. And this continues up until there is no more compromise, or until a forever inflexible partner will "choke on a polonium scarf" in London. For example, in the situation with South Stream, we are observing phase two: the deterioration of EU's position with a hint of a new compromise in the form of an extended "Blue Stream" and a gas hub on a border with Greece.

In fact, Putin is now forcing the EU to recognize the mess in Ukraine is not Russian, but a European problem. Having reached agreements on gas, in which the most important was the acknowledgement by the EU of Ukraine's debt and not agreeing that Russia has the full right to demand pre-payment, one can expect that simply from a sense of self-preservation Brussels will either give Kiev money, or will pay for Kiev or will just look away while Moscow will bring order to Kiev. For political reasons, and under a pressure from United States, Brussels decided not to do it.
Grandmaster Putin's Golden Trap
By Dmitry Kalinichenko
December 07, 2014 "ICH" – "Investcafe" – Accusations of the West towards Putin traditionally are based on the fact that he worked in the KGB. And therefore he is a cruel and immoral person. Putin is blamed for everything. But nobody ever accused Putin of lack of intelligence.
Intussen heeft het Amerikaanse congres Rusland veroordeeld wegens de toestand in Oekraïne en toegezegd om wapens te sturen naar Oekraïne! Als dat deze winter leidt tot een oplaaien van de hete strijd in de Donbass, dan zou dat wel eens kunnen leiden tot een koude winter in Europa!
15 Reacties op "Rusland draait de gaspijp dicht"